Every year when Apple is going to release a new iPhone series (like the upcoming iPhone 15), many iPhone users would decide to change to the latest models. For sure, changing to a new iPhone means that you have to consider about the data transfer, as you probably don't want to lose some important data saved on your old iPhone. So today, this review will mainly provide you 5 ways working to help you transfer data from iPhone to iPhone easily. You can select the one that is the most convenient and can meet your need. Now, just have a look.
Way 1. Professional iPhone to iPhone Data Transfer Tool – FonePaw DoTrans
To transfer data between iPhones without losing any quality or damaging the files, using the best data transfer software can be a good choice. FonePaw DoTrans can provide a relabel service to let you select any data and files from the old iPhone flexibly, and manage to transfer them to the new devices in quite a quick way and without losing or damaging any data. If you don't have a USB cable, its wireless transfer mode can also provide convenient help to let you transfer data from iPhone to iPhone simply through connecting the same Wifi.
FonePaw DoTrans will ensure a stable transfer, which is developed with powerful support for almost all iOS systems and device models. With the simple design, you can enjoy really user-friendly process to complete the iPhone data transfer just by clicks.
Also, FonePaw DoTrans offers the most affordable pricing plans, compared with other similar products, costing from only USD 24.46! Its powerful function can fully win the cost back for you.
Now, see how to use FonePaw DoTrans to transfer data from iPhone to iPhone just by very simple steps.
Step 1. When you have installed FonePaw DoTrans, open the software and connect both of your new and old iPhone to your computer and let the software to detect them.
Step 2. Then on top of FonePaw DoTrans, select the old iPhone device as the source. Now, you can choose the file types on the left menu and select the data or files to transfer later.
Step 3. After selecting files, click the "Export to Device" option on the top menu. From the list, you need to select the connected new iPhone device as the targeted place to store the data. Then FonePaw DoTrans will immediately complete the data transfer for you just within minutes.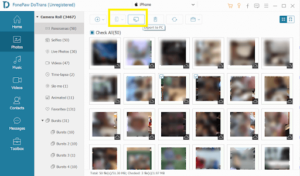 Pros:
Allows to select any data you want to transfer based on your needs

Offers very quick speed to scan the device and transfer data

Won't cause any data lost

Also supports backing up data to PC or transfer to Android devices
Cons:
To complete the data transfer, you need to pay for its subscription
Way 2. Use Quick Start to Sync All iPhone Data
When you get your new iPhone and are going to set it up, Apple has added a new feature called Quick Start to let you move the data from your old iPhone to the new device during the setup process. You only need to prepare both of your devices, Apple ID, and also turn on the Bluetooth function, then follow the steps below to do the data transfer immediately.
Step 1. Place two devices close to each other with the Bluetooth function on.
Step 2. Start your new iPhone and it will automatically pair with your old device. When a pop-up window appear on your old iPhone asking you whether to set up the new device, click "Continue".
Step 3. Now, it will ask you to sign in your Apple ID on the new iPhone first. Just by doing it and the data transfer process will begin. It will take several minutes. Once finished, all data from your old iPhone can be transferred to the new device.
Pros:
The steps are easy to follow

One tap to transfer all data from old iPhone to new device at once

Free feature needs no cost
Cons:
Needs to enter Apple ID to process

Will transfer all data and not allows you to select flexibly
Way 3. Transfer Data Between iPhones Using iCloud
The backup function provided by iCloud also makes it a good option you can use to transfer data to the new iPhone. Using this way will need a stable Wifi connection, and you may need to double-check all data on your old iPhone has successfully been backed up to iCloud (if your iCloud plan doesn't give enough space, you will need to pay for extending it first). Then, follow the steps below to complete the data transfer between iPhones.
Step 1. Connect your old iPhone to the Wifi and then go to "Settings".
Step 2. In "iCloud", turn on "iCloud Backup" to save the select types of files to iCloud first.
Step 3. Then set up your new iPhone and erase it to begin with the setup screen again. You will need to connect with Wi-Fi to do it, till the steps proceed to "Apps & Data Screen".
Step 4. From the "Set up your iPhone" screen, choose to "Restore from iCloud Backup" and log in your Apple ID to select a backup to restore.
Step 5. Wait for the restoring process finished, and all data saved in the iCloud backup will be transferred to your new iPhone now.
Pros:
Doesn't need to install other software to transfer data

Convenient to oeprate
Cons:
You need to purchase enough iCloud space to back up data

Not all data can be backed up, so some files can't be transferred in this way, such as Music and App

You have to back up data before erasing the new iPhone to avoid data loss
Way 4. Transfer Data from iPhone to iPhone via Finder (For Mac Users)
If you are a Mac user, the in-built Finder app can help you directly complete the data transfer from an old iPhone to a new device without installing other software or using any other service. It takes only very simple steps to complete. Check now.
Step 1. First, connect your old iPhone with Mac and open Finder.
Step 2. Select the detected device and choose "Back up all the data on iPhone to this Mac". Click "Back Up Now" to begin saving data from your iPhone to the Mac computer.
Step 3. Then get your iPhone and begin the Quick Start process. When it comes to "Apps & Data" screen, choose to "Restore from Mac or PC" and follow the instructions to complete the data transfer.
Pros:
Don't need to connect two iPhones to Mac at the same time

Easy to follow

No cost needs to be paid
Cons:
All data will be transferred without allowing you to select

After the device is set up, you can't transfer data with the Quick Start function unless you reset your new iPhone again
Way 5. Use AirDrop to Transfer iPhone Data
The in-built feature, AirDrop installed on every iPhone can be used to transfer a small amount of files easily. Simply by turning on this function, you can realize the quick data transfer process between iPhones easily. Now the tutorial below will show you how to do it.
Step 1. Turn on the AirDrop function from the Control Center. Remember to set it to be detected by "Everyone".
Step 2. On your old iPhone, open the apps and select the files you want to transfer to your new iPhone.
Step 3. Click "Share" and there will be an AirDrop button. Click it and choose your detected new iPhone to share the files.
Step 4. On your new iPhone, click "Accept" and the files will be dropped to the device immediately.
Pros:
Drops files in a very quick way

In-built feature that doesn't need to install other software
Cons:
Not all files can be dropped in this way

Can only be used to drop a small amount of files
In Conclusion
When you need to change your old to the new one, you can use any of these 5 methods to transfer data easily. Among all of them, FonePaw DoTrans can offer you the quickest and most flexible way to transfer data and files without any data loss. Compared with other methods, it offers greater convenience as all data can be detected and provides for you to select based on your needs. Now, just try it for free!
Similar Posts: