Do you know what the best mechanical keyboards for programming can do for you as a programmer or coder? Using a good quality keyboard can make coding and programming fun, easier, and swift. It takes away boringness and lets you enjoy punching those keys.
Of all the tools that a programmer needs the most, the keyboards happen to be among the most essential. Programmers need keyboards to design, write, and even test their codes.
However, finding the best mechanical keyboards for programmers can be such a herculean task, given the vast range of options out there.
Today, we have done major work for you! Now you don't need to spend so much time and energy looking for the right mechanical keyboard to continue your programming career.
Be that as it may, if you're so much in a hurry, you can check out our top 3 best keyboards for programmers and coders from the table below.
But if you need more information so you can make an informed decision, keep reading.
Table could not be displayed.
The Best Mechanical Keyboards For Programming And Coding
1. Das Keyboard 4 Professional Mechanical Keyboards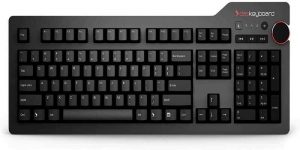 With its super-premium look, build-quality, and robust features, the exceptionally reliable Das Keyboard 4 Professional makes a top choice for work-related tasks and gaming.
Specifications:
Full N-key rollover
50 million keystrokes
Aluminum top panel
Laser-etched keys
Dedicated media controls
Supports Windows, Chrome, and Linux
Two-port USB 3.0 Superspeed hub
Cherry MX Brown mechanical key switches
Features:
The Das Keyboard 4 boasts a standard-looking design, yet it doesn't lack in quality. It features keycaps made with high-grade ABS plastic.
The figures and letters on this mechanical keyboard's keycap surfaces are laser-etched to ensure they don't fade away that easily.
Under the Das Keyboard 4 keycaps lie the high-performing Cherry MX Brown switches. The switches boast a unique tactile feel and don't get overly clicky, thanks to the Soft Pressure Point technology.
The Cherry MX Brown switch lends equal performance to gaming and other work-related tasks, which involves typing.
However, one drawback this keyboard has is the absence of a backlight. But those whose primary purpose of using the keyboard is work-related might not see it as a deal-breaker.
Dedicated media control and volume knob make this mechanical keyboard more convenient for users. With the media control, you can pause, play, mute, or next any multimedia content.
Keyboard Performance: 
With the Cherry MX Brown key switches, rugged build quality, and other outstanding features, the Das Keyboard 4 is clearly a top choice for programmers, coders, and gamers. This keyboard also has a blazingly fast USB 3.0 hub that lets you transfer documents and multimedia files at lightning speed.
2. Razer BlackWidow Elite Mechanical Gaming Keyboard
The Razer BlackWidow Elite is everything you need an elite mechanical keyboard to be. It boasts programmable macro keys, beautiful backlights, and other highlighted features only premium quality keyboards have.
Specifications:
80 million clicks
Magnetic wrist rest
USB pass-through
Chroma RGB Lighting
Dedicated media keys
Fully programmable macros
The military-grade metal top plate
Razer Green Mechanical Switches
Features:
The Razer BlackWidow Elite is a versatile keyboard, built for convenience and increased productivity.
This keyboard boasts programmable macro keys, which offer several productivity-related benefits. It lets you assign custom actions to diverse keys.
The BlackWidow Elite has what it takes to make gaming more enjoyable. Programmers and coders are also not left behind. The keys are super responsive and precise.
So, if you want a keyboard that lets you type fast and accurately, the Razer BlackWidow Elite is an excellent choice at this price point.
A reliable keyboard that supports over 80 million clicks, the Razer BlackWidow Elite comes built with top military-grade material that ensures durability. Even when you drop it on the floor accidentally, you can pick it back up in one piece.
The backlights are super bright, and it makes pressing the keys in low light conditions a breeze. You can also program the lights to suit whatever game you're playing or any color of choice.
This gorgeous mechanical keyboard boasts a magnetic wrist rest, which maximizes comfort and makes working extended hours effortless.
Keyboard performance:
The BlackWidow Elite is one of the best budget mechanical keyboards for coding and programming. Precision, responsiveness, and accuracy are what premium-quality programming, coding, or gaming keyboard shouldn't lack. Razer is fully aware of this, as it seems because the BlackWidow Elite has these qualities.
3. Corsair K95 RGB Platinum Mechanical Gaming Keyboard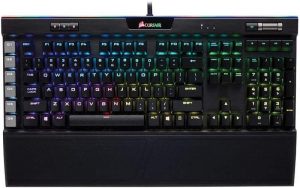 The Corsair K95 RGB Platinum is one of the few keyboards melting the hearts of many users. It boasts customizable RGB lights, detachable wrist rest, and programmable macro keys.
Specifications:
Over 50 million clicks
Six programmable G keys
Detachable wrist rest
16.8 million color options
8MB profile storage capacity
Cherry MX RGB Mechanical Switches
Features:
The Corsair K95 is another impressive programming and coding keyboard on the market. It boasts a unique build quality and responsiveness that's unbelievable for a keyboard at this price point.
This Corsair K95 is a wired-only mechanical keyboard built with solid plastic material and aluminum chassis.
The padded wrist rest is another highlighted feature of this keyboard. The wrist rest is detachable and boasts a soft-touch finish that makes you feel comfortable during any long workday.
You can also detach the wrist rest with ease. Just push it upward, and it will pop off. This keyboard's Cherry MX Brown switches are one of a kind. The switches' short pre-travel distances make them feel lighter and highly responsive while typing.
The Cherry MX Brown switches don't produce a loud sound as most switches do. So they are literarily fit to use in a quiet work environment.
Keyboard performance:
You can't list the best mechanical keyboards for coding or programming with macros and not include the Corsair K95 in the group. This keyboard is built to last and withstand long hours of use. The padded wrist rest makes it more convenient to use. And you can even customize each key's colors.
4. Logitech G910 Orion Spark 
The Logitech G910 Orion Spark is another mechanical keyboard that's well worth the hype as one of the best high-end mechanical keyboards. Intelligent software, dedicated macro keys, and the Romer-G switches' smooth actuation are among the features that set it apart.
Specifications:
70 million clicks
Nine programmable G-keys
Custom color backlighting
16.8 million colors backlit
Romer-G mechanical switches
Supports Windows and Mac operating system
Dedicated media controls
Features:
This Logitech G910 is a beast of a keyboard despite its price point. It features superfast actuating switches, which claims to offer 70 million presses. Not many famous buttons can match this.
The G910 features wired connectivity and some hotkey functions. It also offers nine programmable G-keys, which lets you create custom macros to execute complex commands much faster and precisely.
So, whether you're a gamer, programmer, or coder, the Logitech G910 is for you. Its Romer-G switches actuation is one of the fastest you will find at this price point.
Take note; this is a wired-only keyboard. Nevertheless, the cable is quite long so that it would get to your desktop setup effortlessly.
The customizable RGB illumination makes the G910 aesthetically balanced, as you can decide each key's color.
Keyboard performance:
Judging by the performance and price point, this Logitech G910 is a high-end keyboard. The keys are super responsive, and you can get 70 million clicks out of the switches. The Romer-G switches' low sound means that this Logitech G910 is ideal for an open office environment.
5. Corsair K70 RGB MK.2 Rapidfire Mechanical Keyboard
The Corsair K70 is another mechanical keyboard that would end your search for a high-end programming or coding keyboard. Its typing quality and convenience from the wrist rest is evidence of its overall quality.
Specifications:
Aluminum frame
RGB Backlight
USB pass-through port
Detachable wrist rest
8-megabyte profile storage
Cherry MX Mechanical key switches
Dedicated multimedia controls
Features:
Corsair's superiority is evident in the K70 RGB MK.2 mechanical keyboard. The K70's versatility is noteworthy. And it delivers excellent performance when used for gaming, programming, and coding.
This mechanical keyboard boasts diverse switches, so you can choose the one you prefer the most. The switch options include the Cherry MX Brown, Blue, Red, Speed, and Silent red.
However, this K70 RGB MK.2 features the Cherry MX Speed switches, which are reliable, accurate, and blazingly fast. The switches boast 1.2-millimeter actuation, making it a wise choice for programming, coding, and gaming.
Keyboard performance:
This keyboard's keycaps are stable and feel soft to touch. It also boasts A Cherry MX Speed switch, which is super fast and responsive. So, these and other features are why the Corsair K70 RGB MK.2 is a wise choice for programmers.
6. Cooler Master Masterkeys Pro L RGB Mechanical Gaming Keyboard
Cooler Master is one of the reputable keyboard producers on the market. The Masterkeys Pro L is a highly-rated keyboard and has what it takes to make any programmer, coder, or avid gamer happy.
Specifications:
Anti-ghosting
16.7 million colors
Detachable cable
Cherry MX Blue switches
512KB on-board memory
Features:
A look at the Masterkeys Pro L would make it think that it doesn't have the bells and whistles to be a high-end keyboard. But that's clear evidence that looks can be deceiving.
This keyboard's LED light is extra-large, a reason it's brighter, beautiful, and appears smoother. The Cherry MX Blue switches are another terrific addition to this keyboard.
Though the switches on this keyboard are a bit loud, they are still highly recommended for typing.
Finger-comfort isn't the most desirable, owing to the absence of wrist rest. But that isn't a deal-breaker for people who aren't deterred by the lack of such a feature.
This keyboard boasts easy-to-use software and a detachable cable.
Keyboard performance:
Cooler Master deserves kudos for this fantastic keyboard. The RGB LED is one of the brightest on the market. The switches also make typing effortless. Another highlighted feature is the braided detachable, which makes the keyboard more convenient to use on the go.
7. Drop ALT Mechanical Keyboard
The Drop ALT Mechanical Keyboard's excellent typing quality makes it a wise choice for programmers and coders alike.
Specifications:
67 keys
Custom PCB
Magnetic feet
RGB LED backlight
Floating key design
Dual USB-C connectors
Hot-swappable plate-mount switches
Features:
Overall, this Drop ALT Mechanical Keyboard is a great keyboard and a wise choice for programmers.
This keyboard boasts removable magnetic feet that let you adjust keyboard position to suit your needs. You can place your keyboard at an ergonomic angle while typing or lay it flat. The choice is yours.
The Doubleshot shine-through PBT keycaps are evidence that the Drop ALT Mechanical Keyboard is built to last. The keycaps boast shine-through legends, not printed ones. So, they never fade away.
This keyboard's hot-swappable PCBA makes it versatile and a joy to use. You can swap in a brand new switch whenever you want. And the good part is that you don't require soldering.
Keyboard performance:
This keyboard might be expensive, but it's versatility and build quality justifies its hefty price tag. Typing quality is excellent, and that makes it a wise choice for office use.
8. ANNE PRO 2 Mechanical Keyboard
With fully programmable keys, including wired and wireless connectivity options, the ANNE PRO 2 is a dream keyboard for many.
Specifications:
1900mAh battery
16 macro keys
True RGB Backlit
50 million stroke lifespan
Wired/wireless connectivity
Doubleshot PBT keycaps
Gateron Brown switches
Features:
The ANNE PRO 2 Gateron is a compact mechanical keyboard that will only take up a little space on your desk. So with this keyboard, you can have your mouse and other items on the same desk.
Having wired and wireless connectivity modes add to the quality and convenience this keyboard offers. Use the wireless or wired mode whenever you deem fit.
This keyboard boasts excellent build quality, though the frame comes manufactured with plastic material. The keycaps are quite impressive. They are all PBTs and feel very solid.
The pre-travel and actuation force of this mechanical keyboard indicates how well-made the product is.
Keyboard performance:
If you have used other switches in the past, you will appreciate the ANNE PRO 2 Gateron switches. The switches are not just super fast but feel very soft. The Gateron switches are tactile, and the noise level is minimal.
9. Keychain K6 68-Key Mechanical Keyboard
A highly innovative and compact keyboard, the Keychron K6 offers wired and wireless modes. It boasts every single bell and whistles you would expect a premium quality keyboard to have.
Specifications:
68-key keyboard
4000 mAh battery
Aluminum frame
Hot-swappable switches
Gateron Brown switches
Supports Mac and Windows OS
50 million keystroke lifespan
Features:
Even in the absence of a wrist rest, this Keychron K-6 is still comfortable to type in, thanks to its inclined bottom frame.
This mechanical keyboard uses a rechargeable battery with impressive capacity. The manufacturer claims the battery can last for 72 hours when fully charged.
Dual modes show how advanced and convenient this keyboard is. And you can connect to three devices such as laptop, iPad, and Smartphone and switch between them seamlessly.
This keyboard doesn't generate loud noise when you type, and this makes it ideal for an office environment, as it won't leave you feeling embarrassed or disturbing your colleagues. And you can attribute this to the Gateron Brown switch.
Keyboard performance:
Though this keyboard lacks wrist rest, you will likely not experience fatigue even after typing for long hours. It boasts two incline setting that takes care of that. The K6 also boasts a rechargeable battery you can use while charging at the same time.
10. EPOMAKER SK64S Hot-Swappable Mechanical Keyboard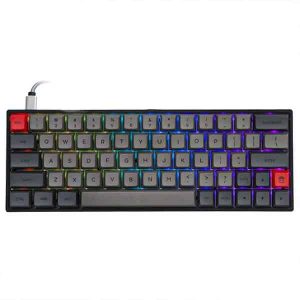 Here comes another incredible hot-swappable keyboard that supports dual connectivity modes. It boasts PBT keycaps and runs seamlessly on Windows and Mac operating systems.
Specifications:
61 keys
1900mAh battery
100 million strokes lifespan
16.8 million RGB backlit
Gateron optical switches
Anti-ghosting and N-key rollers
3-layers fully programmable
Bluetooth 5.1 wireless and wired mode
Features:
The fact that this gorgeous mechanical keyboard offers dual connectivity makes it ideal for various occasions. But the most important benefit the dual-mode brings is convenience.
Being hot-swappable makes this mechanical keyboard a joy to own and use. Most mechanical keyboards at this price point don't have this feature.
You can change switches whenever you want. And the good part is the process is effortless and doesn't require soldering.
The keyboard also features a 5.1 Bluetooth technology, which appears noteworthy.
Gateron switches are widely known and loved for their unmatched durability and unique tactile characteristics.
But this EPOMAKER SK64S boasts the Gateron optic switches, which is more like an upgrade on the traditional Gateron switches.
The Gateron optic switches boast over 100 million stroke lifespan, the highest so far in this list of best mechanical keyboards for programming. It also has a smoother feel.
Keyboard performance:
Adding this EPOMAKER SK64S to the list of best keyboards for programming is a wise decision. It fits the profile of a premium and innovative keyboard. It features 5.1 Bluetooth tech, which makes the connection and transmission stable and super fast. Battery life can last 2-3 days if you don't enable RGB backlight.
Things To Consider The Best Mechanical Keyboards For Coding
Before you acquire that keyboard, you need to understand that programmers differ from one another. There's also a preference for the choice of keyboard among programmers. A mechanical keyboard you find comfortable may be uncomfortable for another programmer.
Any good quality keyboard considered suitable for coding must be responsive, reliable, and comfortable. But that's not all. Here are other factors you need to consider when choosing a keyboard for programming.
The price point:
Price is the first thing you need to consider when choosing a mechanical keyboard for programming. Weigh and compare your budget to the cost of your programming keyboard of choice. Can you afford to spend the stipulated amount on that keyboard? Ask yourself this simple question before you proceed.
Mechanical programming keyboards come in various price points. You can even get a fantastic keyboard for less than a hundred dollars. So also, there are keyboards that cost over three hundred dollars and so on.
The fact is an expensive keyboard may pose a better quality than a budget one. The materials and tech advancement may certainly not be on the same level.
But that doesn't mean you cannot find a good quality budget mechanical keyboard for programming. You can if you look carefully at your options.
To get the best programmer keyboard price, compare two or more keyboards you strongly believe are right for you. Have a look at their features, innovations, design, and other pointers you have in mind.
With such a comparison, you will not only land the best mechanical keyboard for coding and the right price.
Consider the ergonomics:
A mechanical keyboard's ergonomics is vital to programmers and coders, who spend a ton of time on their keyboards. It's common for a coder or programmer to have strain injuries, especially when the programming keyboard one is using boasts isn't ergonomically designed.
So, what is it about keyboard ergonomics that you need to consider? A healthier shoulder-width distance between both hands is one of the crucial factors to consider. It makes typing on the keyboard easier and more comfortable. The space between the right-hand side and left-hand side on your mechanical programming keyboard is crucial.
Palm support is another feature to look out for on the keyboard. With a patent health-V channel, the support would help to take some pressure off your wrist. And this reduces typing fatigue and eliminates carpel tunnel syndrome.
The bottom line is to choose an ergonomically designed programming keyboard. Ensure it has been well-tested. With such a keyboard, the likelihood of experiencing repetitive injury would below.
Consider the convenience:
How convenient is it to use your so-called best mechanical keyboard for programming? If the keyboard isn't suitable, then it shouldn't be on the "best keyboard list" in the first place.
There are many advanced keyboards out there, with innovations that will blow your mind away. So if convenience means a lot to you, focus on features that make your keyboard of choice convenient for you.
For instance, detachable number pads won't be a bad idea for people who don't use their number pads frequently.
Laser-etched keytops and backlights are other features that can make a mechanical keyboard for programming more efficient and convenient for the user. The backlights make typing in low light environment easier.
Wireless keyboards can also make a programming keyboard convenient to use. But if the keyboard uses a cable, a detachable one won't be a bad idea.
Consider the durability:
It's much easier to determine a specific mechanical programming keyboard's durability after spending time with the product. You need to use the keyboard for a while.
Nevertheless, certain features can give you some idea of a keyboard's durability. And one is the keys. They should be able to sustain at least 50 to 100 million clicks.
Apart from the total clicks, the build quality should give you some heads up on a programming or coding keyboard's durability.
On the keys, having laser-etched keytops makes a lot of sense in the area of durability. With such, the markings on the keys won't fade away that easily.
Consider compatibility:
Coding and programming keyboards have to be compatible with popular operating systems out there. These include Windows, Mac, Linux, and even Chrome OS.
The last thing you want is the compatibility issue preventing you from using your keyboard. That shouldn't even happen.
Do You Need The Best Mechanical Keyboard For Programmers?
Learning how to program or code may take a while. But once you master how to write a program or code, the rest would be history.
Coding or programming is enjoyable when you have sound knowledge. But because so much time is spent to write codes or programs, using the right tool can make a ton of differences in your career.
You're going to spend hours coding or programming. That's for sure. You need to design, write, and test your codes.
The keyboard is one of the tools in coders and programmers' kit that is sometimes overlooked. Some believe using any mechanical keyboard for coding or programming can get the job done.
While the basic things you need from your keyboard are the keys for typing, other features could be as essential as the keys. These extra features can help you avoid reoccurring strains, typing fatigue, or carpel tunnel syndrome.
So, the ergonomics best mechanical keyboards for programming boasts could prove helpful. With an ergonomically designed keyboard, you can type for hours without even feeling the effect on any part of your body.
Durability is another crucial reason to choose the best keyboard for coding or programming. Some of these high-grade keyboards come constructed with high-quality materials, so they can take a beating or remain firm after years of use.
The number of clicks is also a crucial factor when checking the durability of a keyboard. Some of the best mechanical keyboards for coders and programmers boast over 50 million clicks.
So there are many crucial reasons to choose the best mechanical keyboard as a programmer or coder. It doesn't matter the stage you have reached in your programming or coding career.
A good programmer or coder always gets the right tools because a single mistake can extend the time spent on a task or make it even more challenging.
Nothing compares to buying a keyboard that offers good value for your money. It would seem like you have struck gold. You would no longer be thinking of budgeting for a brand new keyboard for a long time.
Some of the best keyboards designed for programmers and coders come with advanced technology and innovations that make coding more straightforward, faster, and more convenient. Some allow the keypress and keys to be remapped, letting you execute complex commands.
All work and no play could make coding and programming boring. Don't be amazed when you find people in this line of careers playing video games while having ongoing tasks.
However, suppose you were one of those programmers who enjoy gaming, finding a mechanical keyboard that lets you play more straightforward and complex games, and code or program would be a wise choice. In that case, you need to able to personalize the keyboard to ensure a better gaming experience.
So, if you're thinking of whether getting the best mechanical keyboard as a coder or programmer is worth it, don't think twice about it. Getting the right tool as a programmer or coder, including a keyboard, can make your work a lot easier than you think.
Frequently Asked Questions On Best Keyboards For Programmers.
Can a gaming keyboard be used for programming?  
Yes, they are—gaming keyboards, especially those that boast programmable macro keys and illuminated characters.
Are mechanical keyboards good for coding?
Yes, you can use mechanical keyboards for coding or programming, as most of these keyboards deliver impressive typing quality.
Do coders and programmers need a good quality keyboard?
Yes, they do. Using a good quality keyboard would make your life as a coder or programmer easier. As a coder or programmer, you're going to be spending a lot of time on your computer system, designing, writing, and testing codes. So, you need the right keyboard.
Can RGB lights reduce battery life?
Yes, they can. If you keep the lights on, the battery life may reduce if you keep the lights on for an extended period. The best thing to do is not to enable RGB if you want to extend battery life.
Are backlit mechanical keyboards important to a programmer?
Well, this depends on the individual in question. If you enjoy working at night, getting a keyboard with backlit would make things easier for you under low light conditions. The light would illuminate the keys, so you won't miss a single pass while typing.
Conclusion
So, these are the best mechanical keyboards for programming. They have what it takes to make programming and coding tasks more enjoyable. So, you can make your choice from this list.
The buying guide will also give you clues on things to look out for when buying a mechanical keyboard for programming or coding.
Similar Posts: