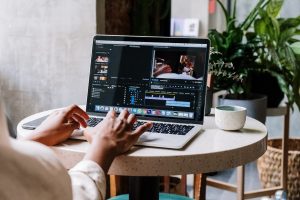 Video sharing is rapidly taking over all social media platforms. Creating video content is becoming a successful business approach. You don't need high-quality footage to make a magnetic clip. Editing is the key to a fantastic video.
There are numerous video editing services available. Many are free. However, some users may not want to install professional video editing software, or their PCs are too slow.
There is a simple way to modify films without downloading any additional software tools. New technologies allow us to do video editing right in the web browser. These days, many online video editors are browser-based. They are almost as good as the software you need to install on your computer.
Online video editing has numerous benefits. You could easily edit videos anywhere and share them with others. If you are new to the online editing world, This guide will help you select the finest video editing software for your needs.
iMovie
iMovie is a great entry-level video editing application developed by Apple primarily for Mac OS and iOS users, although it is also available for Windows users. In addition to editing videos and music, iMovie allows users to add music, narrations, and images to their videos. Mac's free video editing tool is an excellent way to learn the basics before moving to more advanced applications.
In addition to having great color grading features and stylish themes, iMovie has excellent chroma-keying and media management options.
Despite being a free video editor, iMovie supports 4K video. iMovie can also edit videos from any device and is the greatest app for creating Hollywood-style trailers and storyboard-based movies.
123Apps
If you need to edit audio or video files fast and easily, 123Apps is a fantastic website to visit. It's a convenient one-stop-shop with various functions under one roof that is simple to navigate and utilize.
123Apps is incredibly simple to use! The layout is clear and straightforward, with clearly labeled buttons that make the functionality extremely clear and easy to use. Its website design and animated graphic icons are quite popular among users.
123Apps allows you to accomplish some amazing things like:
Cut audio files

Convert audio files: 

Cut Video files

Convert video files between formats

Online Video Recorder 
InVideo
InVideo is a video-creation platform with millions of users from 190 countries and is growing every day. It provides the ease of online video editors straight in your browser. It can be used to make video advertising, promos, and social media videos. InVideo is pre-loaded with more than 4000 layouts, quality stock media, text boxes, and other useful features. 
Features of In Video include:
Quick article to video conversion

Auto-text-to-speech + custom voice-overs

8M+ iStock library and 1M+ Premium Media library

Easy option to cut, trim, crop, composite, apply brand presets, etc.

24/7 customer support 
Adobe Spark
Adobe Systems developed Adobe Spark. Adobe is known for its applications like Premiere, Photoshop, and Lightroom. Adobe Spark's flexibility will delight any social media manager.
This online media editor allows you to quickly and easily produce video stories, social media graphics, and other visual content for your website or blog. There's also an extensive licensed picture and icon collection. Some of the available resources are free to use under the Creative Commons license.
You may also upload custom photos from your PC, Dropbox, or Google Drive. Adobe Spark has many music and video templates and a voiceover recording tool. This software can help you easily create videos for your social media accounts.
Wave.Video
Wave. Video is an online video marketing platform suitable for small businesses to create original video content for their customers. The software allows users to make and embed video advertising and promotional videos.
The site includes a library of stock video footage and music to let users produce professional-looking films to promote businesses and services. Users can also add animations and layouts to their movies to make them more entertaining. Marketing teams may submit videos to social media platforms such as Instagram, Facebook, and Youtube by utilizing the platform.
Additionally, the platform provides a free, customizable social calendar that marketing teams can promote their movies on social media platforms. Videos can be embedded into web pages, including landing pages, using the software's embedded codes. It also allows users to showcase videos and enhance traffic and conversions.
The platform does not require user installation since it saves everything to the cloud, allowing users to operate seamlessly across devices.
Wave.video's main features:
Built-in library of royalty-free video and pictures

Built-in video hosting

Automated captioning

Landing page generator.
Fastreel
Fastreel is a video editing application developed by Movavi that is accessible via the web. It has a user-friendly interface and a wide range of editing options, making it ideal for beginners. These include cutting, cropping, rotating, and combining. It can also divide, reverse, loop, and stop motion videos. The platform also supports SRT files, watermark generation, and access to royalty-free music.
The platform's free and low-cost paid services are ideal for individuals, freelancers, and small businesses. You won't need to worry about steep learning curves because its drag-and-drop interface is built for ease of use! With this tool, you can make videos for personal or commercial purposes.
Magisto
Magisto is a popular online video maker that transforms ordinary footage into beautiful, meaningful movies and social videos. User-friendly and fast with all the features you'd expect from software you paid for with your hard-earned cash.
Magisto is cross-platform, meaning you can use it on mobile, tablets, and the web with the same account. There is an option to post the video directly to social media networks.
Conclusion
The free online video makers listed above can be a good start to explore online video editing tools and check out their features. Since most of these free online video editors are beginner-friendly, anyone can easily create a video with them.
The information provided in this article should be sufficient to help you make an informed decision and select a video editing application that will fulfill your video editing needs.
Similar Posts: