When you receive a call from a hidden phone number, it can be frustrating not knowing who is calling. However, there is a way to block these types of calls on your iPhone.
Calls that come in with "No Caller ID" can be a nuisance, especially if they are from telemarketers or other phone scams. These callers have blocked their caller ID in order to keep their phone number hidden, which makes it difficult to file a complaint against them. In some cases, people may choose to block their caller ID for privacy or security reasons.
To block calls from No Caller ID on your iPhone device you need to switch your settings. Another great option is to contact your telecom service provider and ask them to block these calls for you. The process may vary depending on your provider, but typically you will need to provide them with the phone number or numbers that you want blocked.
Let's review both blocking no caller id options below.
Blocking No Caller ID Calls using Do Not Disturb Option
To block No Caller ID calls on your iPhone using the Do Not Disturb method, follow these 4 easy steps:
1. Go to Settings and tap on Do Not Disturb.
2. Turn on the Do Not Disturb feature by tapping on the toggle switch next to it.
3. Under "Do Not Disturb," scroll down and tap on "Allow Calls From."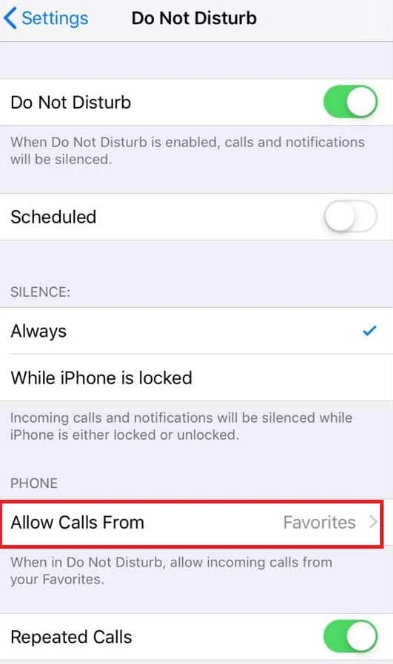 4. Select "No One" or "Favorites" from the list of options.
If you select "no one" then you will receive calls from, you guessed it, no one. If you select the "favorites" option only calls from your contact list will come through. The choice is completely yours.
Blocking Calls with Hidden Phone Numbers using Contacts on iPhone
iOS notifies you when an incoming call is from a hidden number. To block calls with hidden phone numbers, open the Contacts app and tap on the person you want to block. Scroll down and tap on Block this Caller. A confirmation message will appear, tap Block Contact to confirm.
Click on the phone app button from your home screen.
2. Select contact and tap on the "+" icon in the top right corner.
3. Enter no caller id for the contact name and enter "000-000-0000" for the phone number. Then select "Done" in the top right corner.
4. Scroll down to "Block this Caller"
5. Select "Block Contact" to confirm.
When a caller ID is activated, it means that the caller's phone number will not be displayed to the person they are calling. This can be done for privacy reasons, or to avoid giving out personal information to someone the caller does not know.
If you receive a call from someone with an activated caller ID, it is likely that they do not want you to have their phone number. As such, you can reject and block these calls using the methods described above.
Conclusion
There are several ways to block no caller id from your iPhone. Choose the option you're most comfortable with. We hope this helped!
Read more: How to Screenshot on iPhone 11 – Step by Step Guide
Read more: Can I Use My iPhone 7 In The Shower? What You Need To Know
Similar Posts: