Photos can record experiences and lives that previously happened to you, which enables you to recall some unforgettable time you had spent with people you care about the most. However, you may inevitably delete these precious pictures taken with families or friends on some important occasions from any device, be it a Windows computer, a Mac, an Android Phone, an iPhone, and more by accident. What's worse, you don't know how to get them back. 
What an overwhelming and frustrating thing it is! Fortunately, there are still some effective solutions that can help you out! Read on to find out how to conduct deleted photo recovery from various devices, including Windows, Mac, Android, and iPhone easily and quickly.
Different Troubleshooting Tips for Deleted Photo Recovery on Different Devices
Before implementing deleted photo recovery on different devices, you need to make it clear that photos deleted from your storage devices can be recovered as long as they are not overwritten by new data written to the same disk. Although your photos are deleted, they are still stored on the drive. What has changed is the photo info instead of the real data. Thus, don't panic when you find important pictures missing. There is no need for you to feel nervous because the deleted photos can be gotten back in some possible ways.  
1. Perform Deleted Photo Recovery on Windows Computers
Method 1 Restore Deleted Pictures from Recycle Bin
When the mistaken deletion occurs, what you should have a try first is to check the Recycle Bin folder. If you can see the deleted images here, then you are able to restore them easily.
Step 1 Launch the Recycle Bin folder by double-clicking its desktop icon.
Step 2 Navigate all the deleted files in the Recycle Bin folder to find the wanted pictures.
Step 3 Right-click on the images you want to restore and then choose the Restore option. After this operation, your selective pictures will be restored to their original location.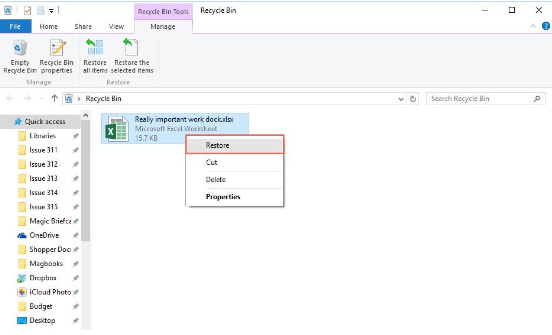 Note: the deleted pictures can only be stored in the Recycle Bin folder for 30 days. After 30 days, they will be permanently removed from the Recycle Bin. If you hope to recover permanently deleted images, then you should try other ways, such as using professional data recovery software or getting them back from Windows Backups.  
Method 2. Recover Deleted Photos on Windows with Data Recovery Software 
Generally, you are able to retrieve your deleted images on Windows computers in 3 ways, that is, recovering deleted photos from Recycle Bin, from Windows Backups, and with Windows data recovery software. Among the three solutions, using data recovery software just like iBoysoft Data Recovery for Windows is always the most straightforward.
Step 1. Launch iBoysoft Data Recovery for Windows after you have downloaded it from its official site and installed it on your Windows PC. It is worth mentioning that this data recovery tool has high compatibility, and it fully supports Windows OS from Windows XP to the latest Windows 11 as well as Windows Servers.
Step 2. Choose a data recovery module from the software interface to meet your data recovery needs. Here, the Data Recovery module, the RAW Drive Recovery module, and the BitLocker Recovery module are available.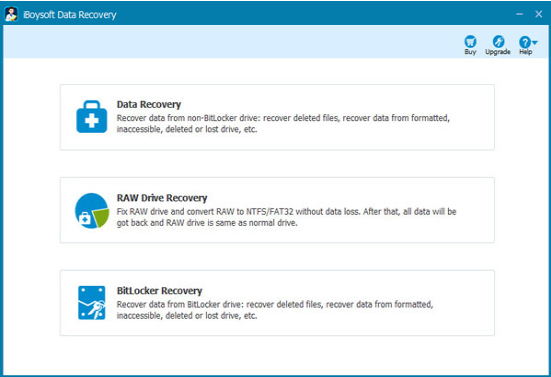 Step 3. Select the drive from which you deleted your photos and hit the Next button. Then, iBoysoft Data Recovery for Windows will search for any deleted or lost data automatically and present it to you. 
Step 4. Navigate the scanning result to have a preview of it, tick the desirable photos if you find them and finally click the Recover button to conduct deleted photo recovery. 
2. Conduct Deleted Photo Restoration on Mac from Time Machine Backup
If you have already backed up your Mac files regularly with Time Machine, the inbuilt backup and restoration tool on Mac, you can simply restore your photos to their original state. 
Step 1 Insert the external backup drive used for Time Machine backups into your Mac.
Step 2 Open the folder that previously stored your deleted pictures.
Step 3 Go to the Time Machine icon > Enter Time Machine. Then, Time Machine will automatically open and present all the available backups to you.
Step 4 View the files in the backup folder to search for the desirable images you want to restore. You can either double-click the selected item or hit the Space button to preview it.
Step 5 Select the needed photo if you find it and click the Restore option to get it back. 
Time Machine may fail to retrieve your deleted images if you never set it up. Under such a circumstance, just use iBoysoft Data Recovery for Mac to recover deleted photos from your Mac computer. 
3. Retrieve Deleted Photos on Android Phones Using Gallery/Albums
Just like Mac Trash or Recycle Bin on Windows, the Trash folder on  Gallery/Albums of your Android phone will save your deleted images for 30 days. Thus, you can find and retrieve them from the Trash folder before the automatic deletion.
Step 1 Tap on the icon of Gallery/Albums from your Android phone desktop to make it open.
Step 2 Choose the Trash folder on the Albums/Gallery interface.
Step 3 Make a selection from all the deleted photos stored in the Trash folder and then click Restore to get the selected photo back to its original location.
This method is just suitable for recovering deleted photos from the Trash folder within 30 days. If these pictures are cleared over 30 days, you can retrieve them from the cloud storage but only if you have backed up these pictures before. If unluckily, you can't find the deleted images on the Trash folder and forget to make a backup copy of them, use Android data recovery applications to help you out of the terrible situation.     
4. Get Deleted Photos Back on iPhone Using iPhone Photos
There are some possible methods available to help you retrieve deleted photos from your iPhone device, the iPhone Photos app, the iCloud Backup program, the iTunes Backup tool, and iPhone data recovery applications, to name a few. Here, we will guide you on how to get deleted photos back on iPhone using iPhone Photos.
Step 1 Select Albums after opening the Photos application.
Step 2 Select the Recently Deleted folder from the bottom left of the screen.
Step 3 Pick the deleted images and get them back by tapping on the Recover button.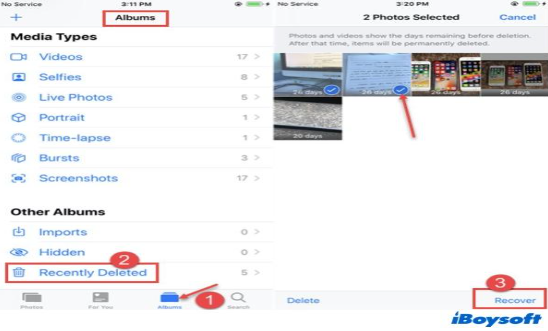 Closing Thoughts
Although many effective methods are capable of recovering deleted photos from various devices, developing a habit of making a regular backup and syncing your photos in cloud storage is always highly recommended.   
Similar Posts: