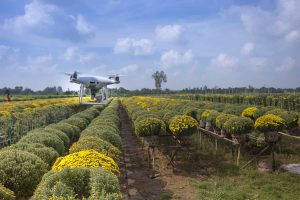 The fascination of people with modern technology and gadgets has not slipped past the agricultural industry: autonomous tractors that do not require drivers, field sensors, robots that harvest crops, technologies for products stocking, and many other means to satisfy the world population food demand. But why does the agriculture industry need all these tech innovations?
Modern farming is not different from any other business, being incredibly capital intensive and associated with risks. Every year farmers invest in resources and assets, looking for ways to mitigate at least some of their risks, increasing profit, and growing their business. And one way to do so is to take advantage of the modern technology designed specifically for farming. A great start could be the precision agriculture software for farm activities monitoring and management.
But before we move to precision agriculture and its benefits for the modern farming business, let's see the growth strategies agronomists can go by to ensure successful development.
Farming Business Growth Strategy
According to the principles of strategic management, there are four main strategies to apply when aiming for business growth:
Increasing sales volume through selling to target customers
Finding new markets and customer segments
Increasing the product line to offer more product to your target market
Offering new products to new markets
The fourth strategy is also called diversification and means adding new enterprises to the existing business. But what's the advantage of this strategy? The answer is that regardless of size, businesses that have undergone even modest diversification tend to outperform their less diversified competitors. Besides, it is almost impossible for a business strategy to ensure both risk mitigation and sustainable growth at the same time. And that is where diversification could be of great help.
To back up your farm business growth, it's also critical to utilize the opportunities precision agriculture has to offer.
Precision Agriculture Technologies In Growing Farm Business
The entire concept of precision farming is basically a saving grace that modern agriculture holds onto. It has finally allowed farmers to keep track of every activity on their farms to cut costs and save time on farm management. Here are some examples of how this works in a real farm setting.
Chemicals Application Management
Precision agriculture technology enables easy and remote detection of problem areas that require fertilizers or pesticide use, allowing farmers to save money by eliminating the overapplication of these chemicals.
GPS Equipment Tracking
GPS technology enables remote vehicles tracking and management, saving time and money on both human resources and seed thanks to high precision.
Big Data Utilization
There is a variety of online tools farmers can use to collect, store, and analyze farm data. Having all the needed information in one place, agronomists can make more precise, effective, data-driven decisions. Besides, such tools can be used to keep track of the farm finances to help farmers understand where the most money goes and how much to expect in return.
Apart from applying precision agriculture technologies to their farm, agronomists can also consider taking loans when aiming to expand their business.
Loans To Facilitate Your Farm Growth
Agriculture loans are of great help both when starting a business and when expanding it. Here is how farmers can use loans when aiming for growth.
Farm Equipment
Experienced farmers already know what equipment they need, from tractors to irrigation systems. Now they just have to calculate expenses on every piece of equipment they plan to purchase. To do that, they can rely on the prices of the equipment they already own.
Supplies
This can be everything a farmer uses to grow crops, from seed to chemicals and harvesting tools. But when taking a loan for buying supplies, it is critical to borrow enough to cover the operating expenses until you start to generate profit.
Farmland
Purchasing or leasing land is another great option when expanding your farm. But before that,  decide on the size and type of land you require.
All of the mentioned strategies and tech innovations can be used simultaneously to ensure your farm sustainable and fast growth. The combination of precision agriculture technologies, the right business expansion strategy, and loaning can create the exact driving force your farming business was lacking to grow.
Similar Posts: