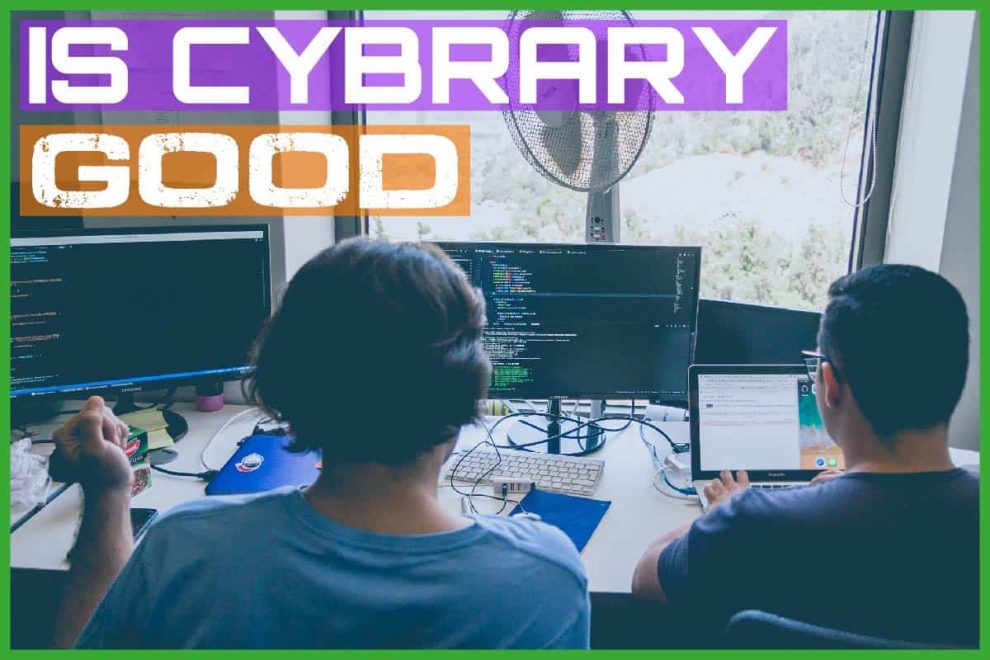 As far as IT development platforms are concerned, Cybrary is one of the hotshots out there. Not only do thousands of people rely on it for their learning, but they also offer career paths for users. Despite the reputation, innumerable enthusiasts wonder – is Cybrary good for their cyberlearning curve?
To better understand whether Cybrary is up to your ante, we have prepared a detailed explanation. Read on to know more. 
What Is Cybrary?
Cybrary is a rapidly growing platform for cyber-security enthusiasts to learn, educate and connect. The platform has brought forward immense changes in the world of IT just by offering an abundance of courses and scope to learners. Today, as the age of IT unravels in front of us, Cybrary stands tall among its competitors.
This platform is now recognized as an essential security framework before a developer joins the industry. It acts as both a blueprint for security and also provides potential companies with workers. Overall, it may be termed as an enlightening platform that also takes up cyber security responsibilities for others.
Now here's the thing – Cybrary teaches cyber security, and a couple of thousand learners receive the education. This platform goes the extra mile to ensure that learners are not left stranded after the learning period is over. So, they have designed a mechanism to ensure post-learning productivity through a job.
In other words, they are giving you the material to learn and understand the ins and out of cyber threats and security. And right after you're done learning, there's always the chance to exercise your skills through employability. However, you're always free to take breaks and resume, depending on your course timeline.
How Does Cybrary Work?
Cybrary has a massive community that helps you learn, network, and proceed in the career of cyber security. If you're thinking of joining the authorities, then you might want to go through several community reviews to get a clearer picture of how it functions. The following information is for those who want to join to learn.
In simple words – the internet is a very complex network that has been evolving ever since its introduction. Every day, experts introduce some new concepts that they later integrate into the web. While that may seem very minute, it actually renders a lot of effect onto cyber security and its measures.
What Cybrary does is teach you to adapt to the ever-changing nature of the cyber world. It doesn't matter whether you are an aspiring Information Security Analyst or Forensics Expert. There's always something in store for you on this platform. The best thing is that most of the good stuff is out there for you to grab for free.
Cybrary has an extraordinary algorithm to determine what a certain professional can benefit from. Since it extracts all its intel from the current job market, the tutors have a clear concept of what skills are in demand. As a result, they are able to construct an efficient learning module. 
These benefits are especially beneficial for those looking for sustainable ways to develop skills. When learners go through these modules, they get an insight into what it feels like to work in a real-life situation. They can then use that experience to reinforce their expertise in skill development.
What Do They Offer?
Cybrary consists of people like you and me creating the content from scratch. So, it's not super progressive. With that being said, it's still well saturated with quality content on whatever you want to learn about cyber security.
Most videos on the platform are accessible free of cost. We do recommend using a personal login ID so that you get to come back to your preferences whenever you want. The free content is self-sufficient for learners, and it also acts as a way to try out the service before committing to it.
If you've already made up your mind, there are always paid courses if you upgrade to Cybrary Insider Pro. Through this package, you will have unlimited access to learning materials, evaluations, and practice sessions. 
And as a cherry on top, a career guide to help you grow in your journey towards success. At the end of the learning phase, Cybrary presents scopes to try out yourself in the real industry. Now we all know what a shot towards industry-based learning means in the current age.
If you feel uncertain about a particular factor at any point of time in your career, you always have Cybrary to look back to. This is what makes the platform different from its competitors.
Is Cybrary Budget-Friendly?
Yes, Cybrary is quite budget-friendly compared to the other options that are available in the market. Today, almost every content-based service offers some sort of subscription plan that becomes inevitable after a certain level. 
Luckily, this platform doesn't follow this business process or ideology. As a result, we are presented with excitingly free content from the very beginning.
Let's say that you're an existing user. And the free content isn't meeting up with your demands anymore. So, you've decided to upgrade to Insider Pro. This would naturally lead you to worry about the added expenditure, right? Well, not even the Insider Pro isn't as the heft of an expense compared to what it offers.
Remember that the Insider Pro bundle can be billed either monthly or annually. We recommend going for annual billing as that reduces your monthly cost to $33. In contrast, you'd be billed roughly $50 for the monthly billing method.
Can Cybrary Get You A Job?
In today's world, employment is earned through a series of competitions and tussles. Whether you'll get that dream job or not depends on you and not Cybrary. With that being said, the platform will surely give you a heads-up in the competitive job market.
But how does Cybrary do that? Like we mentioned before, Cybrary doesn't do anything, it's you who does the hard work. So, a mere subscription to Cybrary won't do you any good if you're not here for the learning. But if you have a thirst to develop cyber security skills, then you must sign up for this platform.
This age is the age of data and information. Every day specialists are developing newer and more advanced methods of safeguarding the internet. A career in cyber security means learning on the go as things keep changing very fast. So, Cybrary will only come in handy if you're well aware of your end goal.
When you start to take up courses in Cybrary, it compiles in your resume. At the end of the learning period, you get a certificate, and the skill goes down in your profile. So valuable attributions such as the CEH Certification (Certified Ethical Hacker) can later add up to make your resume an impressive one.
Things To Keep In Mind Before Joining Cybrary
No platform is a bed of roses, and the same is the case for Cybrary. Despite being one of the best in the industry, certain drawbacks hold them down. While none of these issues are crucial, it's important that you are aware of these before joining –
Subscription Does Not Guarantee Employment
We cannot stress enough how important this is to know before you join up. We don't want readers to have the false conception of assurance. You can only get hired if you can prove what you have learned in the examinations and tests.
No Commenting on Videos
Strange rule, right? You'd be surprised to learn that this isn't a rule at all. There 'are' no commenting features under videos. So don't look forward to having discussions with others anywhere other than the community.
All Courses Don't Offer Deep Dive
Often the only way to ensure deep learning is through hands-on tutorials. So, ask yourself if you're a big fan of practical knowledge or not. If you dislike this, then you might have a tough time understanding some of the content from theory alone.
Beware of Jittery Interface
Cybrary is constantly evolving its processes and making improvements to its interface. As a result, the interface can turn out buggy sometimes. This is not a great threat to your learning curve. But we believe customers should be aware of what they're getting before they pay for it.
Conclusion
Cybrary is a great way to advance your cyber security career if you're a diligent learner. This platform teaches you, nurses you, and later evaluates your skills through examination. If you are able to prove yourself at the end of every course completion, you get a valuable certification. 
Is Cybrary good for building a resume? Yes, because all these attribution and certification later pile up to lead you to your dream job. And if you're thinking of making a go, then this is a good place to start. All you need to do is put in those hours to land that job title you've been aspiring for!
Similar Posts: