When it comes to providing a great social media experience through photo messaging, Snapchat is no stranger.
They have fun and interactive ways to share creative Snaps to your family and friends. For example, you can now add filters, drawings and text to your photos and videos before sending them to your friends on Snapchat.
This is a great way to show off your creative side and have some fun with your friends. In addition, Snapchat also offers a 'Live' feature that allows you to broadcast live video to your friends. This is a great way to connect with your friends in real-time and share the moment with them.
The only downfall to it all is losing your forsaken Snapchat streak. Now your life is ruined, or is it? Is it possible to get back your Snapchat streak after losing it?
You May Also Like:
How to Fix Snapchat Won't Open, Keeps Crashing, Won't Load
How to Screenshot on iPhone 11
What is a Snapchat Streak?
A Snapchat streak is a way of indicating that two users are consistently sending snaps to each other within a 24 hour period. The time clock icon or logo next to a friend's name indicates how long the streak has been going on for. In order to maintain a streak, it is important that both users keep up with the snapping.
Snapchat streaks are only counted with individual snapchatters, which means that users cannot have a group chat with them. This is because snaps that are sent with memories or content spectacles will not count towards the Snapchat streak. Chatting is also not considered as a Snapchat streak.
If you and your friend have been Snapping each other within 24 hours for 3 consecutive days or more, you'll see a fire icon. The number of days that you've Snapped with your friend is indicated by the number next to the fire icon.
When a user reports that they have lost their Snap streak, it is likely that they have not been sending snaps back and forth continuously. Snapchat streaks are based on consecutive days of sending and receiving snaps, so if a day goes by without a snap being sent or received, the streak will be broken.
Additionally, there is no indication on the app that a streak is about to expire. This can be confusing for users, as they may not realize that their streak has expired until they try to send a snap and see that the streak counter has reset to zero.
But there is said to be a way to get it back. Follow along.
How to Recover Your Snapchat Streak
The first thing you need to do is make sure that you have the most recent version of the Snapchat app.
If you don't, go ahead and update it. Once you have the latest version, open up the app and log in.
Then, swipe down from the top of the screen and tap on "Support." Underneath "How can we help you?" you should see a section for "My streak has disappeared." Tap on "Contact Us" and send a message to Snapchat telling them that your streak has disappeared.
In your message, be sure to include your username, the name of the person you were streaks with, and the date when your streak disappeared.
Snapchat will then investigate what happened to your streak and should get back to you within a few days. If they're unable to help you recover your streak, they may offer you a refund or some other form of compensation.
Step by step instructions (with photos)
1. Go to your snapchat profile and click on the settings symbol in the top right corner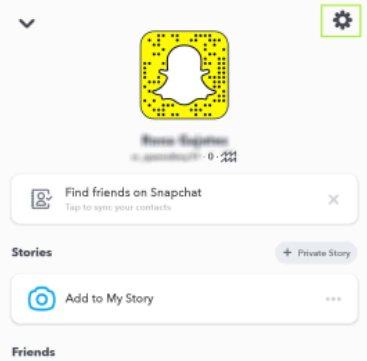 2. Scroll done to the "I need help" section
3. Click on "Contact us"
4. Select "My Snapstreaks disappeared"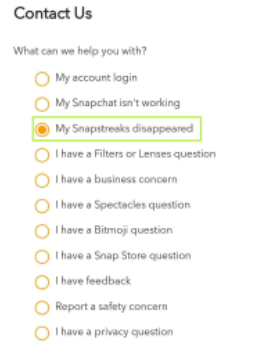 From here you can fill out all the necessary information required by Snapchat to get your Snapstreak back.
Conclusion
In case you lose your Snapstreaks, don't worry because there is a way to recover it. All you need to do is wait for a reply from the Snapchat team and follow their instructions. If you're having trouble recovering your Snapstreaks, you can also go to the Snapchat website and select the Contact Us option.
From there, select the My Snapstreaks disappeared option and fill out the information form. Finally, send the form to Snapchat.
When you are missing a Snapstreak, it is important to report it as soon as possible. This is because, if you continuously send Snaps (not chats) to your friend within 24 hours and the snaps are not memories or spectacle contents, you may have lost your Snapstreak.
It is therefore important to report any lost Snapstreaks as soon as possible in order to rectify the situation.
Similar Posts: