Since 2023 WWDC has announced the new release of iPhone 15 and iOS 17, and now we have welcomed the their releases in the latest September Apple event. To cater to the new change, Passvers also get ready to add support for iPhone new models and system, to deliver the cutting-edge technique to help you resolve unexpected iOS errors occurred suddenly. To celebrate Apple's new update, Passvers also prepared a special event with a large discount to its lifetime licenses. Now, you can get its leading iOS system solutions provider, Passvers iOS System Recovery at 30% off lower than ever before!
Overview of Passvers iOS System Recovery
Passvers iOS System Recovery is an industrial-leading program developed for resolving any sudden-occurred iOS system errors such as black screen, system upgrade failure, jailbreaking failure, and so forth, to retrieve a properly-working device for you once again. With the newly-released iOS 17 system, if you run into any trouble upgrading, downgrading, or while using it, Passvers iOS System Recovery is a helpful assistant to help you out.
100% Safeguarded
Device and data security would be the priority many of you are concerned about. The program is developed with advanced techniques to encrypt data and safeguard the whole iOS system repairing manipulation without any hidden danger that may occur. During the while manipulation, the security system will prevent malicious virus, adware, or malware attacks, ensuring 100% safe performance and no risk in any data disclosure.
Great Success Rate
Passvers iOS System Recovery is equipped with 3 modes: scanning and repairing iOS system basically, quickly, or deeply. Its advanced decoding ability works to detect any sophisticated codes and locate the problem smartly to resolve it for you. The program is the most efficient iOS system recovery program that enjoys the best success rate.
Work Under All Scenarios
Regardless of what life scenarios when you encounter iOS system errors, like getting the devices broken or encountering a system upgrade failure, Passvers iOS System Recovery performs to locate the issue and match the corresponding solution to help you overcome it. You can always turn to the program and get appropriate assistance from it.
Speedy Performance
To enable an efficient outcome without wasting much of your time on it, Passvers iOS System Recovery is also equipped with hardware acceleration methods to speed up the coding process, which will only take you a short while to complete the system repair. Furthermore, it won't take up much CPU consumption and guarantees smooth performance to bring you a friendly experience.
Special Pricing for Passvers iOS System Recovery
During this special sales event period, Passvers brought a 30% discount on its lifetime license, allowing you to get the program ready to cater to any further system errors you probably meet unexpectedly.
The original pricing of Passvers iOS System Recovery would cost $79.95. But now, it only costs $55.96 and you can use the software free forever!
How to Use Passvers iOS System Recovery
Passvers iOS System Recovery is not a complicated program that would take a large learning curve. You can simply walk through this manipulation guide and see how it works:
Step 1. Run Passvers iOS System Recovery and connect your iOS device to the desktop.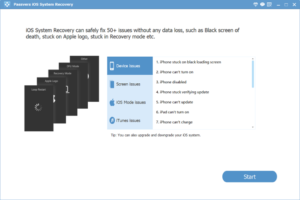 Step 2. Tap Start in the program, and select a recovery mode to proceed with the system repair.
Step 3. Confirm downloading a firmware and tap Next to process the recovery in no time. It only takes several minutes to complete.
The Bottom Line
It is still unknown for what problems you may meet while upgrading to the latest-released iOS 17 system. Why not get ready with Passvers iOS System Recovery at the lowest pricing now to prevent the sudden occurrence of some unknown errors? For more information, head to Passvers official website to grasp in no time!
Similar Posts: