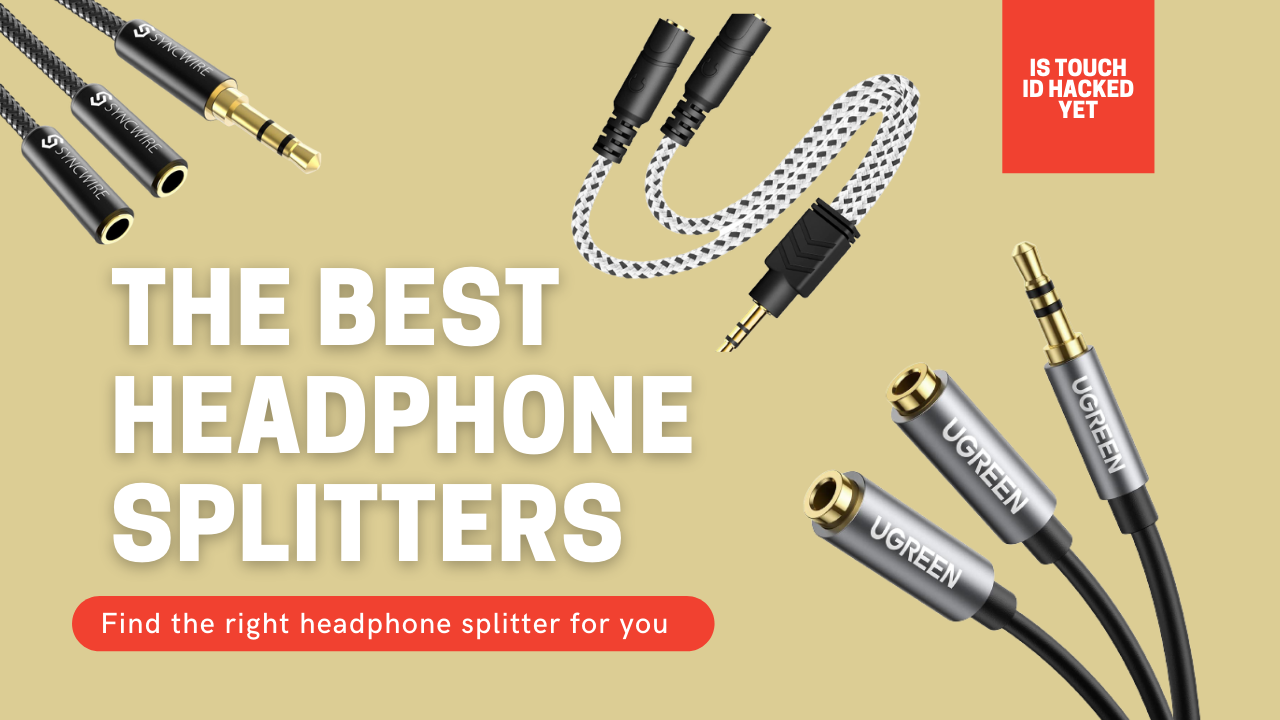 Have you ever wanted a friend or family member to listen along with you to your new favorite song? Or maybe you wanted to share audio for a movie that you were watching on an airplane? It's also possible that you're in a public setting and it would just be flat out awkward and rude to blast the sound for the public to hear.
These are great examples of situations where a headphone splitter would come in handy. There are many different sets of headphone splitters out there, so choosing the best headphone splitter that can accommodate your particular needs may be a difficult task.
In most cases, if you're spending your money on a product, you want to make sure it's of good quality. If that happens to be the case today, well you're in luck. We will be highlighting the most highly reviewed headphone splitters below. 
Headphone splitters have different features and designs. Some have more ports than others. Despite their uniqueness, all of these devices can conveniently be brought where ever you go. This article has specifically been written for you to help determine which headphone splitter is best for you. We have some ground to cover. Let's get started.
Best Headphone Splitter Reviews
The Syncwire headphone splitter is one of the best headphone splitters. It works perfectly with any phone device with an average 3.5mm headphone jack and comes equipped with 24K gold plated connectors, which ensure accurate data transmission. This will in turn enhance sound quality. Also, it connects well with any speaker and PlayStation. It has a solid black color with an auxiliary connector type.
Designed from top notch material, this Syncwire headphone splitter is built to withstand 15,000 separate 90 degree bends. We dare you to try and attempt this haha. A nylon jacket that covers this headphone splitter make all of that possible. The metal housing on each end make this cable built to last.
Features & Benefits
Good Connection:

This headphone splitter has a typical 3.5mm jack. It has an extension cable that can transfer sound from your iPhone, tablets, laptops, and iPod. You can have speakers and headphones as your output devices.

Perfect sound quality: The Syncwire headphone splitter has a 24K connector with a gold plate that enhances the effective transfer of data and eliminates noise and missing signals.
Highly durable: The high-quality headphone splitter has double shields that safeguard it against any disruption. Its connector has a concise measurement that enhances a secure and solid connection – and fits well in most cases, rather than the lifeproof case.
High-end materials: The Syncwire headphone splitter has a soft jacket made of nylon. It houses an audio extension cable that ensures the high durability of the device. It can withhold 15,000 cycles of at least a 90-degree bend test. The headphone splitter has a metallic housing design that adds beauty and strength.
Good support: The headphone splitter has friendly consultation services to meet your support questions and concerns within 24 hours.
Pros:
Lightweight device for road rides.

Clear and high-quality stereo sounds.

Longer lifespan.

Sturdy design.

It has a comfortable adjustment when listening to audio.

Incredible stereo fidelity
Cons:
It might have a bit of lagging audio sound after connecting two headphones.

Volume control might be affected on specific devices.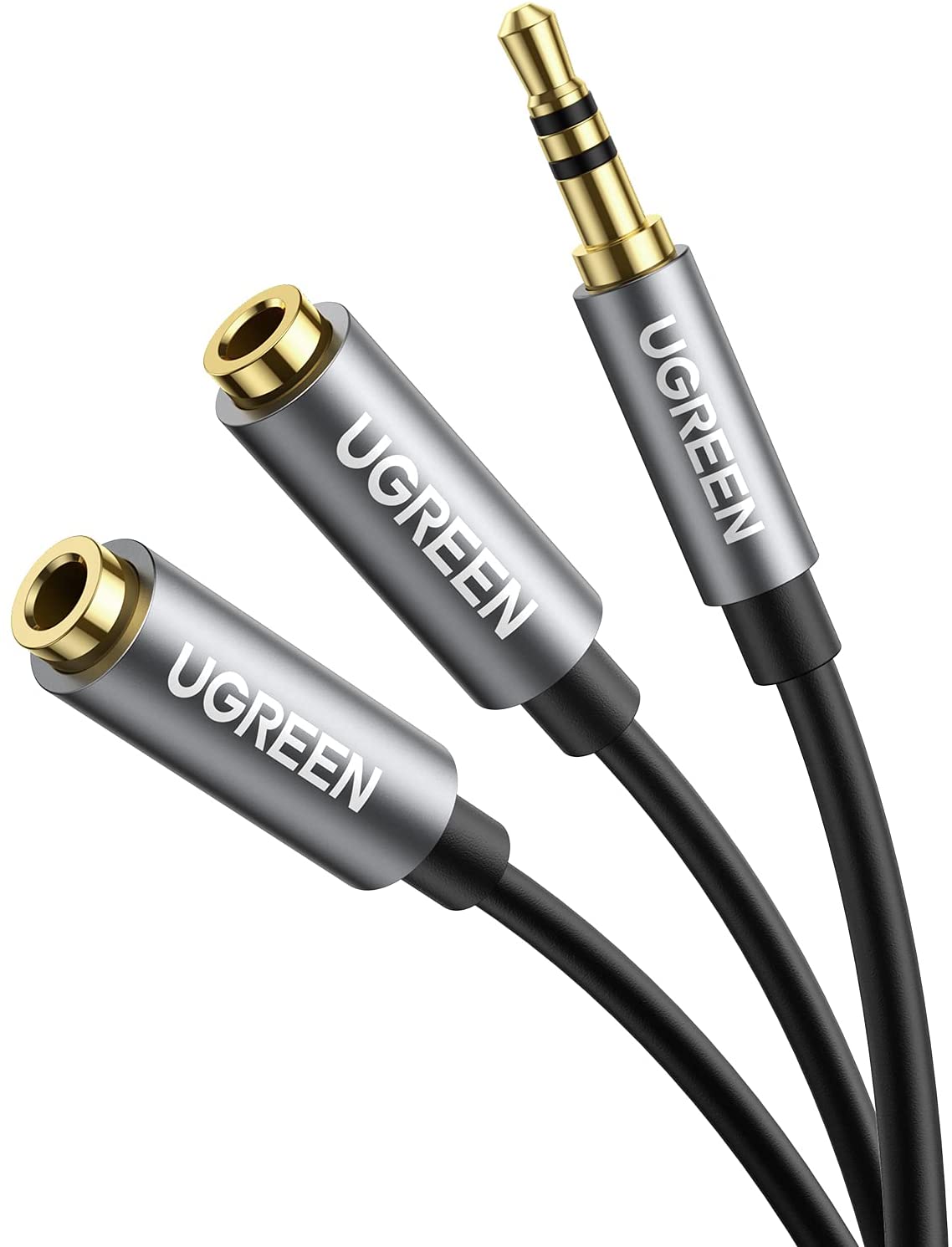 The UGREEN headphone splitter has an auxiliary connector with two ports. These two ports are made out of 24K gold plated connecters, with an aluminum shell. The wires are shielded with pure copper and the aluminum housing. Strain relief rings have been added to each end to provide maximum stability and flexibility.
It's male and female cables also have nylon braiding with gold plating. The splitter separates audio from a single source and allows you to utilize double speakers simultaneously. 
Compatible with any device that boasts a standard 3.5mm auxiliary port. Any of your Apple devices (as long as you have Apples USB C to 3.5mm adapter) or Android devices will work perfectly with this UGreen headphone splitter. As well as any gaming headsets that have a 3.5mm jack option.
Another great feature is it's compact and lightweight design. Take it with you where ever you go!
Features & Benefits:
Powerful stereo sound

. This 3.5mm headphone splitter transfers audio sounds to all your female aux sockets. It has an ideal structure with no cases of losing signals during sound transmission.

Great durability. The headphone splitter has an adapter with a thriving construction, composed of different materials, including aluminum casing, TPE jacket, and connectors with gold plating. This Jack Y splitter can withstand tears and wear, unlike other 3.5mm brands.
Ready design. The UGREEN splitter is readily available for your trips. It is organized and straightforward to carry around.
Significant wires conduction. Its cable has copper conductors with strong shielding to safeguard your audio sounds from interference.
Pros:
Compatible and lightweight, high-quality headphone splitter.

Good quality stereo sound.

Small and neat design structure.

Sound quality remains stable after adding devices.

Long lifespan.

Simple to use.
Cons:
Volume control is not automatic.

Wires might not hold up while in much motion.

Have to rely on the volume of the primary device.
The Dukabel headphone two-way splitter comes in a variety of different color options. The cable above is the "zebra white" option. Dukabel headphone splitters are also available in these awesome colors: Black bee, Shining silver, and Christmas red. has an auxiliary connector type with at least three ports.
This Dukabel headphone splitter features one 3.5mm male end and two 3.5mm female audio connectors, which splits one single headphone jack into two.
Conveniently connect multiple sets of headphones or external speakers simultaneously to play on your device. Works great with all of your 3.5mm jack devices. For instance, your computer, smartphone, iPad, tablet, and MP3 player etc.
These headphone splitters are knitted, offering a very cool, sleek looking design. Made from an oxygen-free copper material for optimal audio transmission. Equipped with thick 24K gold plated jack and end splitters, adding extra resistant protection for your cable. 
Features & Benefits:
Multiple uses.

Dukabel headphone splitter is highly compatible with audio devices, tablets, MP3 players, computers, and televisions with auxiliary jacks.

Thin design. It's cable has a braided surface for extra protection and adds more beauty to your gadgets.
Easy setup. Simply plug the splitter and play your favorite music. You don't need any software to get started. You can connect two headphone pairs to the splitter jack. The Dukabel adapter works well with most devices such as phones and tablets with a 3.5mm connector.
Primary advantage. The headphone splitter has a copper conductor, free of oxygen to enhance compelling audio sounds. Also, it has a 24K Jack with a gold plating that reduces noise and signal loss. The Dukabel Headphone splitter cable has an incredible look with more protection from resistance.
2-Way splitter device. With this device, you can connect two headphones or earphones. Besides that, you can combine several external speakers to establish your DIY sound environment.
Pros:
Budget-friendly headphone splitter.

Profound sound quality.

Can connect multiple devices without affecting the audio. 

Great length.

Highly durable.

The phone jack has a tight connection.

Great piece for traveling.
Cons:
Can distort early on if not well taken care of.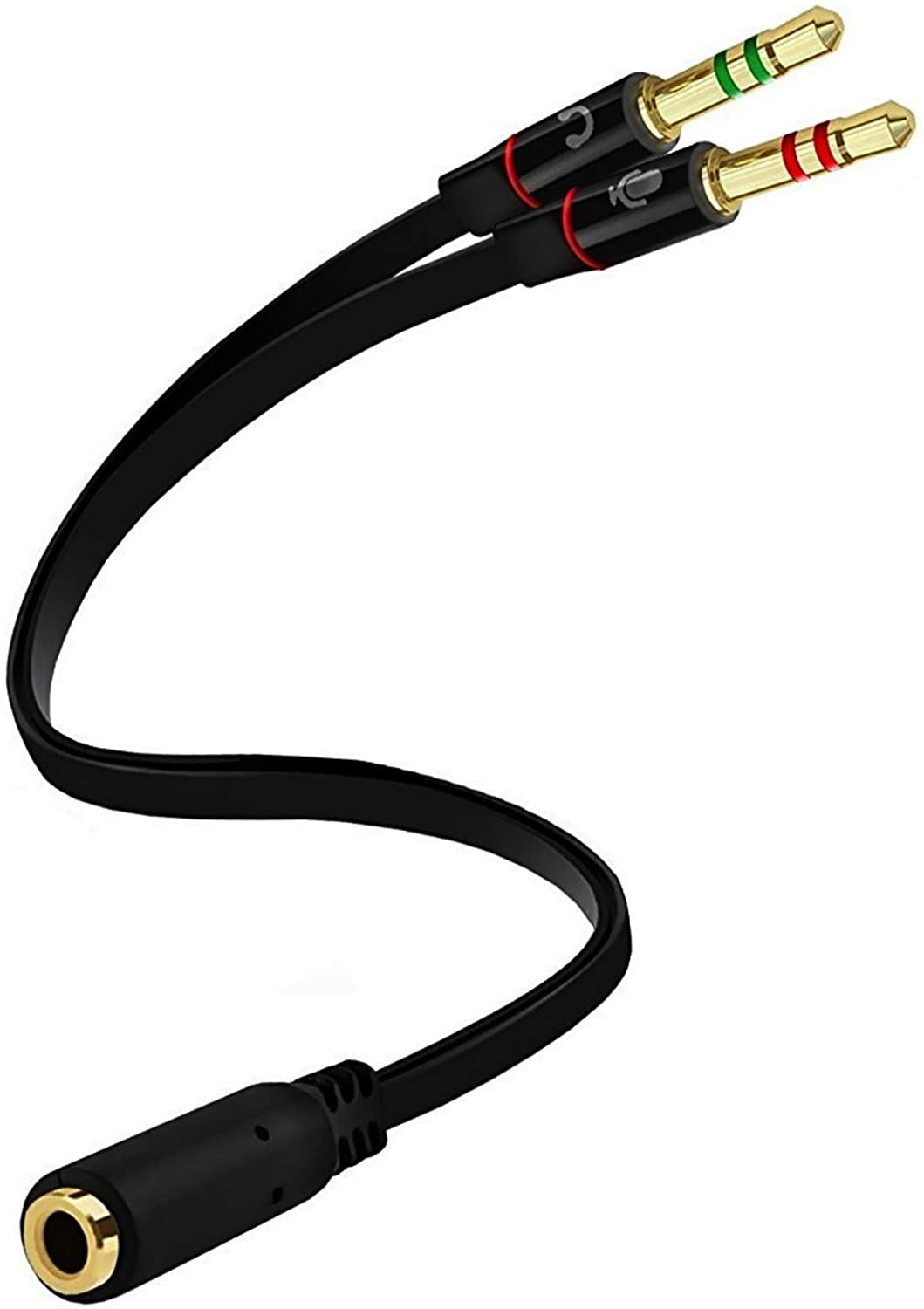 The mic and headphone splitter have a 3.55mm Y-splitter cable that link your mic and headset to a PC audio port and mic port simultaneously. It assists you to include a single microphone input alongside having a stereo output to your laptop via a 3.55mm sized port. 
Features & Benefits:
It has a copper-conducted cable with a gold plate.

Therefore increasing durability and eliminates signal interference.

A 3.5mm headphone splitter with dual male ports – one for your mic jack. While the other is for the headphone jack.
Highly compatible with devices with at least 3.55mm jacks – performs well with Android and iPhone.
It has a 24K gold plate that releases adequate sound quality with fewer lost signals.
Pros:
Performs well with multiple applications, including Skype and Yahoo.

Compact design – making it easier to carry around. 

Adjustable cable length of about 10cm.

Long-lasting headphone splitter.

Simple connection to your headset.

Budget-friendly and highly valuable.

Produces clear audio sounds.

High innovative ports; for mic or any external device.

Suitable headphone splitter for gaming.
Cons:
It might be hard to push the headphone male connector into the jack.

Unsuitable for PC with a TRRS jack.
The Dukabel headphone splitter has two ports with an auxiliary connector type. It has an internal shielding of aluminum.
There are many more features, lets check them out!
Features & Benefits:
It is the best music partner with friends.

This 3.5mm headphone splitter transforms a jack of 3.5mm into double ways. Therefore, enabling you to listen to music from a similar source using your sources. The 2-way splitter cable supports several devices, including tablets and cell phones with auxiliary jacks.

High-end performance. The 2-way splitter works well with a 3.55mm headphone jack and many devices. It enables you to link with the built-in mic headphones and TRRS microphone to your smartphone or PC into the jack simultaneously.
Much essential. The 3.5mm audio cable has 24K gold plating with a jacket of triple shields. Also, it has an exterior design of nylon braiding and incredible copper wiring. The headphone splitter is one of the best choices in the market.
Sturdy exterior design. The Dukabel splitter is of a durable design. It has a crystal-like look, with anti-slipping property beside a gentle touch. Its jack has extra insulation that safeguards the device during different maneuvering when plugging in and out. The splitter minimizes interference for high-quality sound delivery.
Pros:
Deliver both audio and mic outputs simultaneously.

Triple protection, therefore, less noise.

More flexible.

The headphone splitter withholds corrosion.

Perfect for most devices with 3.5mm auxiliary ports.

Significant sound quality.
Cons:
Unsuitable for Apple and Bose headphones.

Unsuitable for in-line remote controls.

It is not a good option for condenser microphones.
The JSAUX has three ports with an estimate of 0.9ft. It performs well with all headphones and speakers with 3.5mm jacks. It has a simple setup when connecting with your device. You only need to plug your splitter and play your favorite music taste.
Features & Benefits:
Music sharing.

The JSAUX headphone splitter transforms a 3.5mm jack to double 3.5mm jacks. It has a Y-type design that lets you share the music or movie moment with your friend or family.

Good sound quality. The headphone splitter has double shielding with a gold plating connector. Also, it has a copper wiring core that makes it less prone to external interference. With it, you get to have clear output sounds.
Longer lifespan. It has 15000+ bend durability and a nylon braiding that contributes to no tangling and higher durability, unlike other PVC materials in the market space.
Significant connection. The 3.5mm splitter can transmit audio sounds from your smartphone, tablets to two other output devices, including speakers and headphones.
High compatibility. The JSAUX headphone splitter is ideal when handling iPad, Smartphones, and mp3 players.
Pros:
The sound quality does not degrade.

Flexible audio cable.

Simple to carry. It can fit in your laptop bag.

Valuable headphone splitter during traveling.

It has a great design.
Cons:
Too much bending might break the device.

Unsuitable for a microphone.
The ONXE headphone splitter has gold plating that is well compatible with 3.5mm female jacks devices. You can utilize at least two headphones simultaneously, allowing you to listen to your favorite music beat with your family or friends.
Features & Benefits:
Simple setup.

It has an easy way of connecting to your devices. It is possible to connect two mini-stereo speakers to your iPod. One might be a 1/8 inch male plug, and the other might be two female ends of 1/8 inch.

Thin design. The ONXE headphone splitter assists you in connecting to a 3.5mm audio device, whether housed in a jacket or case. With it, you can get clear sounds.
Profound sound quality. There is no quality degradation after connecting to multiple devices.
Pros:
Lightweight and has a compact design ideal for traveling adventures or school use.

Simultaneously connects to speakers and headphones.

Suitable for microphone input and PC outputs.

Ideal for Samsung, iPhone, tablets, and PC.

Tightness on the female ends.

It is a helpful headphone splitter and a good option for the money.

Comfortable splitter with high-end performance.
Cons:
It can break if you are rough.

Unsuitable for stereo to a single splitter.
The FOBOIU headphone splitter has male to 2 female connector types. If you have a PS4, tablet, or Xbox One, this splitter will be perfect for you. It has a more straightforward setup that will help you get started, plug, and play your favorite music.
Features & Benefits:
More compatible.

The headphone splitter works well with most audio devices with at least 3.5mm, even a Nintendo switch. It can transform a 3.5mm aux port into two distinct parts; a 1x microphone jack and a 1x headphone jack.

Significant sound quality. The headphone splitter has a connector with 24K gold plating, which can withhold corrosion. It has a copper core that maximizes conductivity, therefore, assuring you of significant sound quality. The FOBOIU headphone splitter does not lose sound during transmission. It has a cover with nylon braiding and maximizes flexibility and a longer lifespan.
Fadeless design. The splitter has a sheath tube and connectors with an upgraded groove, ensuring suitable tightness to withhold at least 15000 insertions. The fadeless label on the splitter guarantees you a significant look with no fading.
Sync audio sounds. The splitter adapter leverages the collaboration of the audio output and input. You can sing, alongside listening to music and streams. If you are an online gamer or have frequent Skype meet-ups, this is the splitter for you. It has a 13-inch estimate length and compact to take during plane rides or road adventures.
Pros:
Incredible sound experience for you and your friends.

Made of pure materials to support anti-jamming.

The splitter does not tangle. It is a sturdy splitter.

It has a stable sound transmission.

Long-lasting headphone splitter.

Comfortable cable length for your professional meetings.
Cons:
Unsuitable for splitting audio outputs.

It might not work on an HP Elitebook dock.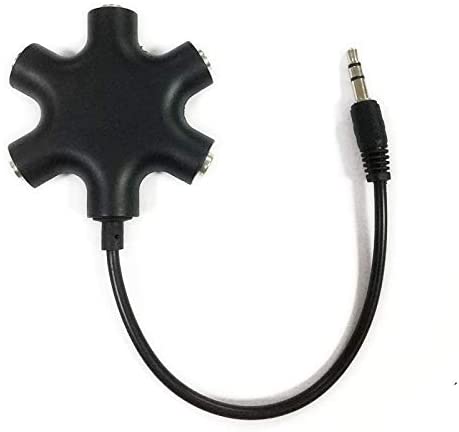 The 5-way multi-headphone splitter has an auxiliary connector type and at least five ports. For a people person, this is the ideal choice for you. You can utilize this splitter with even five of your friends. More of its features might include:
Features & Benefits:
Compatible with most devices.

The 5-way splitter works perfectly with any device with an AUX port. These might include laptops and smartphones. It works like a charm even in an iPad with a 3.5mm jack.

It has a unique design. The headphone splitter has an ABS plastic structure and a PVC cable – it has compact sizing and an attractive color.
Significant sound quality. Audio sounds from this splitter have no degradation cases.
Pros:
Works perfectly for a sizable group of people

Suitable for travel adventures and classroom sessions.

Budget-friendly cost.

Can use your devices for volume control.
Cons:
The splitter might be finicky. You might have to adjust the cables for a solid connection with friends.

Unsuitable for a mic. 

Wires might break when not careful.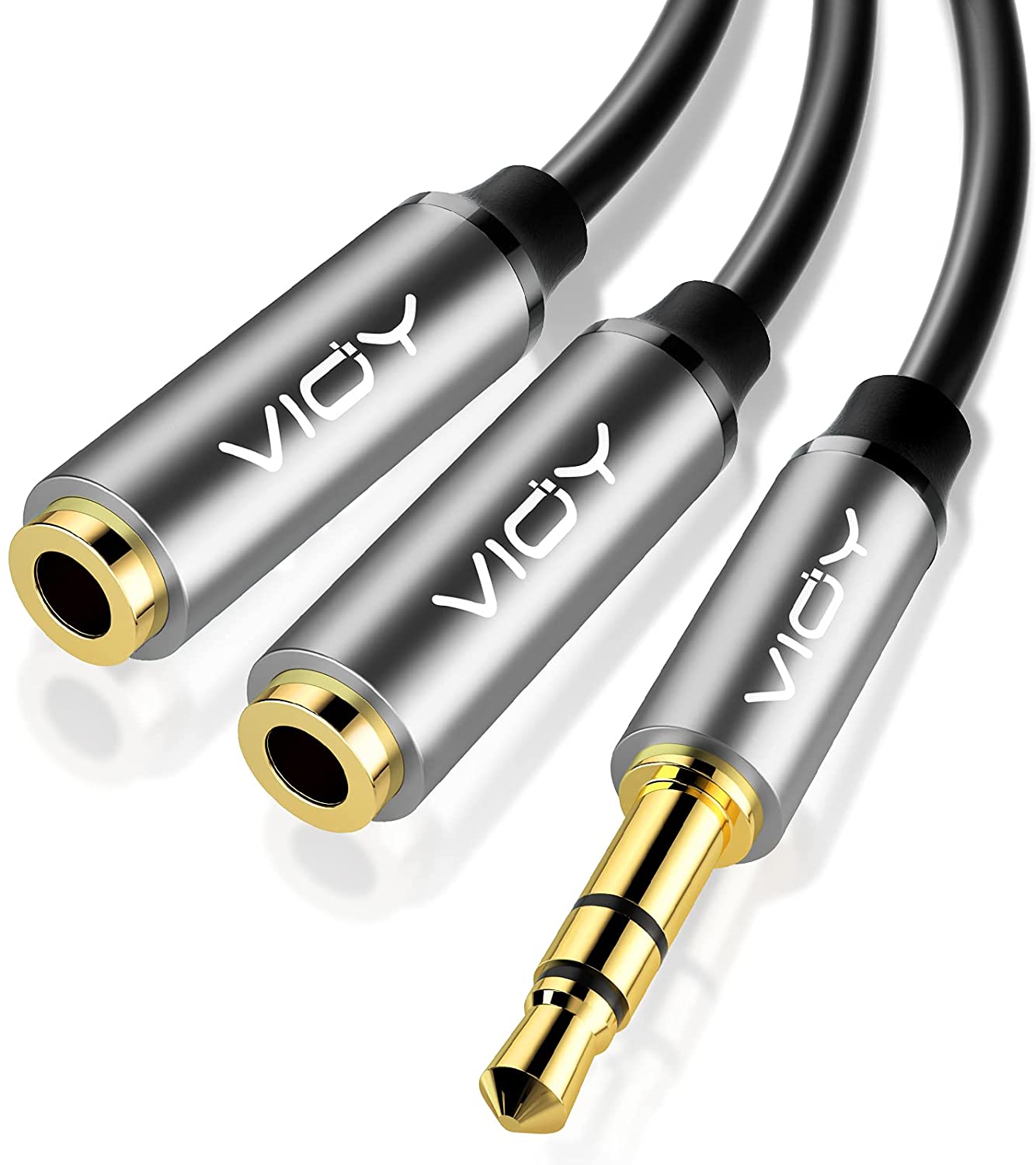 The VIOY headphone splitter is a perfect option for your flight rides or road trips – it is well compatible with CTIA standard devices alongside OMTP devices. The splitter has a 20cm-estimate length.
Features & Benefits:
Audio sharing.

The 3.5mm headphone splitter enables transfer of audio from your iPhone, MP3 players, and laptops to at least two of your output devices, including speakers and headphones. The VIOY headphone is a wise tool to share music and games with your friends.

Profound sound quality. The connectors are made of a material that does not corrode away easily. The device has a step-down design structure for your audio splitter to have a precise and high-quality performance with minimal signal loss.
Lightweight material. The splitter has a compact design that adds convenience to your daily activities. You can carry along this device in your pocket or handbag.
Significant build. It has a copper make that contributes to solid conductivity and life span. With an aluminum case, the splitter enables you to have multiple and frequent plugging and unplugging.
Pros:
Easier to adjust your volume using your iPhone or output device like a speaker.

Small and portable for classroom and road use.

It has tight plugs.

Affordable cost.

Consistent and superb sound quality.
Cons:
Cannot connect mic and headphones at the same time.

It must be dissatisfying for a particular use.
Best Headphone Splitter Buying Guide
The most crucial factor to pay attention to before purchasing a headphone splitter is the number of your desired outputs. A typical headphone splitter has at least two outputs, therefore, enabling you to link at least two sets of devices. Other splitters might have more results, even four. However, depending on the brand, the sound quality might get affected.
Let us dive deeper into several other factors to assist in making the most significant decision.
Plating on the connectors
Most effective headphone splitters have gold plates to ensure a stable and significant connection. You might also consider connectors with nickel plates for good contact and protect them against corrosion.
Size of lead
You might consider checking on the lead size when buying a headphone splitter. Some people might desire a shorter cable length or a lengthier one to satisfy their needs when listening to their favorite tunes. Go for what suits you best.
Headphones or headsets
Another point to consider is the true purpose of the splitter. If you want a best headphone splitter for your headphones alone, consider buying a specific product for this need. Or, you can look for an adapter that connects to both your headphone and microphone. You can consult the store attendant for the right product.
Audio mixing
Specific audio splitters allow the user to control the mixing and the fade-ins. Pick a splitter that will enable you to blend your music and produce a single and incredible outcome. Also, look for a great partner to enjoy music sharing and mixing.
FAQ
How do you use a headphone splitter?
A headphone splitter is a device that transforms a single jack into at least two audio outputs. Making it a great option and feature when you want to share audio with multiple people. For you to get started with a headphone splitter, you quickly need to plug the splitter into your computer and then connect your headphone to the splitter.
Do audio splitters work for headsets?
Yes. Audio splitters work well for headsets. The headsets have jacks that constitute the mic, ground, or left or right into one plug. You can look for an ideal audio splitter to have a sensual audio moment with your friends.
Are headphone splitters good?
Headphone splitters are incredible devices to have in your travel pack. They enable you to share music from a single source using individual devices and eliminate boredom and isolation during friend or group trips.   
Are headphone splitters bad?
Headphone splitters might come with mere harmful effects – a splitter might burden your amplifier and drain your current swiftly. It might affect the sound distortion and volume troubles. However, this should not stop you from getting one for yourself. Shop around for the best quality headphone splitter.
Which is the best headphone splitter?
Headphone splitters come with varying designs and features, including the number of ports and sound quality. The article above has a list of the top ten headphone splitters to have. You might opt for the Syncwire or the UGREEN headphone splitter. In the case of a larger group of friends, the 5-way multi headphone splitter will work magic for you.
Do I need a headphone splitter?
You might need a headphone splitter if you want to share music or podcast with your friend or colleague. It will give you an endless and wholesome experience when listening to sounds using individual output devices. 
Final Verdict
Technological changes contributed to the existence of headphone splitters. They are the go-to equipment to have when sharing content with other people. The majority of these accessories are simple to carry around and align perfectly with your budget. However, the best headphone splitters stand apart in their make and purpose.
The article has a list of ten different leading best headphone splitters to satisfy your needs. A popular pick is the Syncwire headphone splitter that attracts more people due to its durable and sturdy design. With a buying guide backup, go through the information piece and make your ideal choice.
Similar Posts: