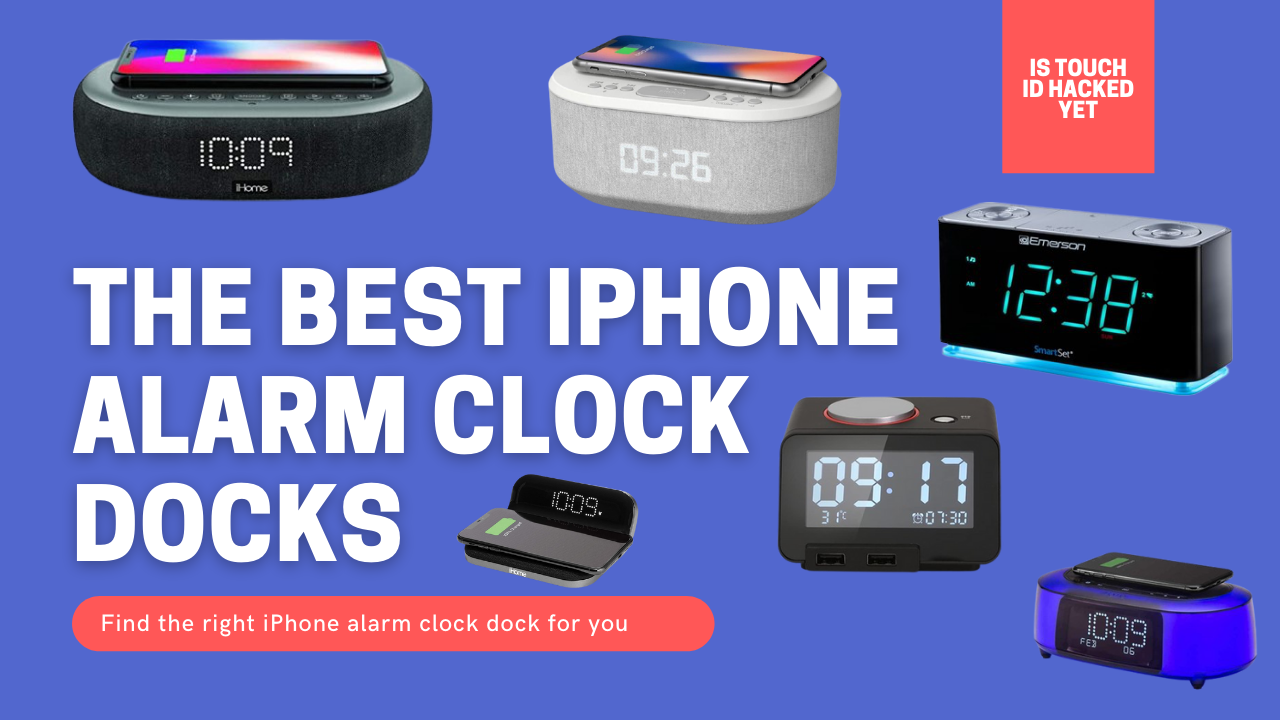 iPhone alarm clock docks are the best iPhone accessories available on the market. In addition to charging your iOS devices, the docking stations stimulate the environment of your workstation or home through sound and lighting features. Recently, innovative accessory makers have added speakers to docking stations that allow you to play music through Bluetooth or FM radio.
Because iPhone alarm clock docks are such a popular piece of technology, numerous companies have created their own version of the product. This makes it hard and tedious for consumers to select which model best fits their needs. It becomes quite challenging to find the best one, especially when we have so many options available.
Do you know what the worst part of this situation is? Everything seems to be so identical; we can't even distinguish between them all. The best tool that will help you to chose the iPhone alarm clock dock that is best for you is a perfect buying guide for an iPhone alarm clock dock. Here we have created a detailed list of the top-rated and best iPhone alarm clock docks available on the market. Now you will easily be able to read through the features of the various iPhone alarm clock docks before you purchase the one that works for you.
Best iPhone Alarm Clock Docks
1. Emerson Smart Set Alarm Clock Radio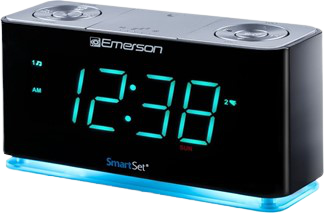 Emerson is an award-winning technology-related company that is known for creating original and innovative products. Most recently, they offer the most amazing smart set alarm clock dock for iPhone. This alarm clock dock automatically sets the alarm with the current year, month, date, and time, after you immediately turn it on. The best feature of this alarm clock is that when daylight savings comes around this iPhone clock dock will automatically fall back or spring forward so you do not have to stress about remembering to change the time. Another unique feature that can be a lifesaver is that this clock will automatically reset to the current time after a power outage. With the Emerson Smart alarm clock dock, waking up in the morning is a breeze. This alarm clock dock is great for iPhone because it offers a USB port for charging. Additional features include, Bluetooth, FM radio, 20 FM stations memory storage and an oversized LED display.
Highlighted Features:
V4.1 Bluetooth Features
FM Radio with Digital Modification
USB Port for iPhone Charging
Giant LED Screen with Dimming Night Light
Set Alarm Clock to Ring on Weekdays Only, Weekends Only, or Every Day of the Week
Customize your Alarm Clock Ringtone to the Buzzer, FM News or FM Music
2. Bedside Radio Alarm Clock
The Bedside radio alarm clock dock is a best seller for iPhone users. One of the best features is the ability to wirelessly charge your iPhone on the QI wireless charging pad. You can wake up worry-free and never be late for school or work again with this alarm clock because of the ability to set two alarms through its dual alarm feature. This iPhone alarm clock dock is not only highly functional but it looks great too! Offering 5-level LED light dimmers allows you to always have the best brightness for the time of day. Additionally, this alarm clock is made of high-quality materials which add to its stylish look and feel. Lastly, the sound system on the Bedside alarm clock dock is worth noting, built with 6W stereo speakers and a subwoofer that allows you to Livestream anything through Bluetooth capabilities or FM radio. This iPhone alarm clock dock is a top pick for consumers with over 2,000 reviews on Amazon confirm.
Highlighted Features:
Qi Wireless Charging Pad and USB Port
5-Level LED Light Dimmer
Bluetooth Allows you to Stream Spotify, Pandora, or Apple Music
6W Stereo Speakers and Passive Subwoofer
Modern Look
3. Homtime Multi-Function Alarm Clock
The Hometime Multi-function iPhone alarm clock dock comes with a four-level LCD dim light to ensure that the alarm clock is never too bright at night. This antique model has a 3.2-inch large LED display for readability while also taking up less space on your nightstand due to its small size. Additionally, it has a dual charging feature from USB that has 3.1A (1 x 2.1A, 1 x 1.0A) power and it also protects your device from overcharging, overheating, and surges. In addition to a snooze option, our favorite feature of this iPhone alarm clock dock is the "gradual wake up", which allows the alarm to first ring in a low, soft volume then gradually increases volume over time. This allows you to calmly wake up stress-free.
Highlighted Features:
Gradual Wake Up
Snooze Option
USB Charging Port with Surge Protector
Indoor Thermostat
4. iHome TIME BOOST Qi-Certified Wireless Charging Alarm Clock
The iHome Time Boost alarm clock dock comes with a dual charging option that charges two devices at once through a Qi wireless pad and a USB port. This allows you to charge your iPhone and Airpods at the same time. This clock also includes a Bluetooth feature and an alarm clock. A feature we love is the Auto-Dimming sensor, which will automatically adjust the brightness level of the alarm clock. This ensures that the alarm clock is never too bright in a dark room.  Lastly, the iHome is a fan favorite due to its modern look and feel and use of high-end, premium materials.
Highlighted features
Dual Charging Through Qi Wireless Pad and USB Port
Back-Up Battery for Power Outage Protection
Compact and Stylish
Temperature Control to Prevent Overheating
Bluetooth Speaker
Over-Charge Protection
5. iHome iW18 Compact Digital Alarm Clock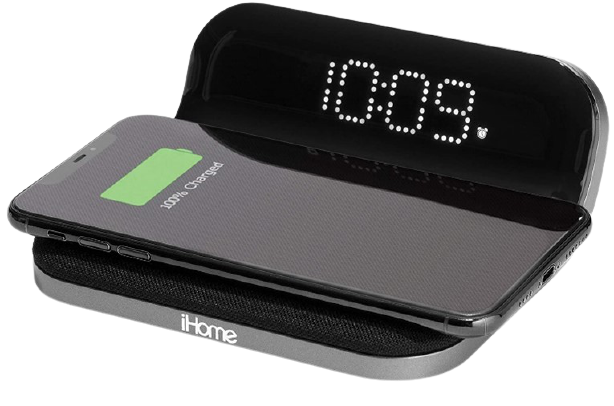 The iHome iW18 is a dual charging alarm clock that comes with a wireless Qi charger and a USB port so you can also charge a second device such as Airpods. This iPhone alarm clock dock comes with a dual alarm clock feature and allows you to schedule your alarms for weekdays or weekends. Lastly, this best iPhone alarm clock dock also has a display brightness control which allows you to adjust the level of brightness on your alarm clock. iHome is a reputable brand with almost more than 60 years of experience in creating innovative electronic devices. If you want to wake up on time, you should have this iPhone alarm clock dock in your home or at the office.
Highlighted Features:
Dual Alarm Clock
Dual Charging: Qi Wireless Charger and USB Port
Adjustable Brightness Level
Small Size and Easy to Use
Reputable Brand with Over 60 Years of Experience
6. iHome iBTW281 Alarm Clock Radio
The iHome iBTW281 dual iPhone alarm clock dock comes with prominent speakers and wireless charges support. It can charge your Qi devices wirelessly and charge the other devices with the help of a USB port. This alarm clock dock allows you to create a zen environment through 7 LED light patterns and colors. You can also play your favorite songs through the Bluetooth speakers. Lastly, you can gradually have the light on your alarm clock dock brighten as you wake up. This is a sought-after alarm clock dock because you can schedule different alarms for different days and even use different tones and lights.
Highlighted Features:
7 LED Light Colors
5 Led Light Patterns
Wireless Qi charging pad and USB port
Bluetooth Speakers
Snooze Button
The Best iPhone Alarm Clock Docks Buying Guide
When shopping for the best iPhone alarm clock dock, you will need certain features, such as charging ability and a snooze option. There are also additional features and functions you need to consider before you purchase. So check out our best iPhone alarm clock dock purchase tips in this guide. We want to make your user experience smooth with the help of these hassle-free buying tips.
What is the Product Price?
Whenever we go shopping, prices are the most important thing we need to consider. iPhone alarm clock docks are usually offered in a wide range of pricing options. You can quickly get a cheaper version that is still equipped with the essential features that a premium higher-priced alarm clock dock has.
It depends on you and your needs which one you intend to add to your shopping cart. Do thorough research and try to find the one that fits your needs and preferences. Be strict with your budget limit and make sure you get the least expensive product that includes all the features you are looking for in an iPhone alarm clock dock.
Go Through the Features In-Depth
Along with pricing, features are among the other most important things that matter during the final purchase. An iPhone alarm clock dock can't be considered perfect if it doesn't have all of the features you require. Before you purchase look at this list of all the different versions or models of the best iPhone alarm clock docks. Once completed successfully, now compare these models or versions with each other. Take a look at the product's pricing, its benefits, pros, cons, and compare it with your functionality needs. Try to get the one closest to your expectations. Then purchase the iPhone alarm clock dock that best fits your needs.
Which Brand Are You Choosing?
A renowned brand name carries a level of trust, credibility, and reliability along with it. Everyone prefers to choose a brand that can provide a better product and customer service. A brand is not only a guarantee of quality; it makes access to help even more convenient. A name brand has the ability to assure the quality of the iPhone alarm clock dock and takes care of the product services or questions without any delay.
The Guarantee Matters
Purchasing an iPhone alarm clock dock without a guarantee is not a smart idea. Products from reputable brands provide various warranty options to users, and this keeps you safe from the extra costs spent on repairs and maintenance. Go through the guarantee option provided by the different service providers and try to take a look at the one that gives you the best choice.
Read Product Reviews
Reviews help consumers learn more about the different product features, pros and cons, and product pricing. A perfect buying guide will help you to narrow down your search for the best iPhone alarm clock dock. Then to finalize your purchase it is important to read the reviews on each product you like. This will give you insight into the best one for you. Most of the reviews provided against the products enlisted here are through real customers and can be quite helpful during the final purchase.
Is the Seller Trusted or Not?
Confirming the brand of the best iPhone alarm clock docks you are buying is not only enough, but you also need to double-check the credibility and trustworthiness of the seller as well. It's the way to stay safe from ongoing frauds and scams. A large number of vendors are available in the market and sometimes it becomes pretty difficult to distinguish who is the best option. This makes it quite crucial for you to purchase your iPhone alarm clock dock from a well-known seller.
Final Words
Each of the products that are enlisted above in this guide is known for its quality and affordability. The best thing here is that each of these products features unique sets of features that make each iPhone alarm clock dock unique.
From the premium iPhone alarm clock dock to the simpler/cheaper option, we provided detail on them all. The only thing you need to do is go through the details very carefully and check the pros and cons provided to determine which iPhone alarm clock dock is best for you. We hope this guide will narrow your search and allow you to easily choose the best iPhone alarm clock dock for you.
Similar Posts: