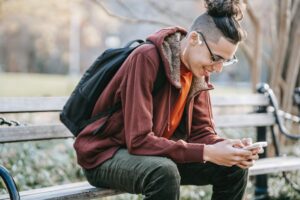 Technology has deeply influenced how fans interact with their favorite sports, both improving the experience and diversifying it. From a smartphone in the palm of their hands, fans are able to check the latest news and live scores, book tickets, live-stream games, and interact with other fans—and that's just the tip of the iceberg.
In places like the US, sports betting has also enhanced the mobile fan experience. Sites like OddsChecker simplify the process of shopping around for a sportsbook, and once bettors have found their preferred market, they can wager straight from their smartphones. Ten years ago, only retail sportsbooks in Vegas could facilitate bets. Now, they're just a few taps away.
The same goes for daily fantasy (DFS) markets. The shortened and more exciting fantasy league format has revolutionized modern roto. While the classic season-long fantasy leagues aren't likely to go anywhere, DFS pairs especially well with mobile devices.
As smartphones continue to be a hub for fans to interact with their favorite teams, sports leagues and teams around the world are looking to enhance and improve their mobile apps. But which ones have gone above and beyond to innovate? Let's explore.
Premier League: Fantasy Options & Tons of Data
Billed as the most-watched league in the world, and certainly home to some of the world's most dedicated fans, the UK's Premier League app must fulfill many needs. Despite the high charge, it does offer a fantastic experience—especially for those who want to dive into the sport's more granular aspects.
Specifically, the app offers 27 years' worth of data to comb through. This type of information can be used to explore the past, or even help frame future bets with the assistance of matchup history. The app's emphasis on history also includes a curated reel of some of the league's greatest moments.
NFL+ Offers Entertaining Coverage
Similar to the Premier League, the NFL has a huge number of highly dedicated fans—and they want a top-tier app experience. NFL+ doesn't seem to be any different than other league apps in that it offers live coverage and tons of news updates—but it's the former that manages to stand out.
The NFL's in-app coverage includes highlight reels that are incredibly dynamic. Unafraid of flash, the NFL creates highlight reels that include stats, play breakdowns, and other interactive visuals. While it might not sound that different from replays shown on TV, you'll have to see them to appreciate them.
Best of the Best: NBA League Pass Delving into the Future of Sports Tech
So far, we've covered three of the best app experiences in the sporting world. But let's zoom out for a moment and focus on technology in general—and entertainment. For the last few years, the NBA has been tinkering with its League Pass. This subscription allows fans to watch games remotely from a variety of devices.
But one of the most interesting League Pass projects is its VR pass. Those with access to VR equipment can watch certain NBA games courtside straight from their homes. While this experience still has a few bugs to work out and isn't available for mobile devices, it's a great example of how sports are using technology to improve their entertainment value.
Olympics App Demystifies the High-Profile Event
The Olympics Games are some of the most-watched sporting events in the world. Still, there's a lot going on for the uninitiated. And the Olympics App is all about demystifying the high-profile event with a simplified interface and a strong understanding of what type of information users will search for.
In other words, the app does a fantastic job of breaking down schedules, sports, news, and competitors. While it might not seem like a tough job, keep in mind that the Olympics App will be used by people around the world who speak different languages and who are used to a certain type of UX. In other words, it's a global fan app.
Similar Posts: